You have experienced it. The sun is shining with a different wavelength today, the air is crisp and has a summer feel to it.
This can mean only one thing and that is a beach day!! But then you ask yourself: What to do at the beach?
Well, you are in luck because there are plenty of things for you to do and enjoy doing while visiting the beach.
With a little imagination and a lot of creativity, there is plenty for you to do while catching the waves.
Whether you are traveling alone or with people, the beach is a great opportunity to just stay and wash your worries about.
No pun intended. Haha.
Regardless of the fact that you're visiting the beach for a day or longer, there are a plethora of things to do.
First and foremost, a lot of people usually travel with their families or with friends.
With a large number of people there is plenty that will keep you busy on hours end.
One of the things you can definitely do is always pack either a soccer ball, football, or volleyball.
Some beaches have plenty of room and you can easily make a team out of your family.
Most popular beaches have volleyball nets you can use if you bring a volleyball.
Who doesn't love to play beach volleyball? One such beach, for example, is Cocoa Beach in Florida
Soccer is another popular sport you can play at the beach.
Playing beach soccer is one of the most fun things to do at the beach that will give you plenty of fresh air and exercise to submerge yourself in.
Bring a Frisbee.
If you have never played frisbee at the beach, maybe it is time you start!
Frisbee will keep you entertained for hours! All you really need is two people to start. And it can actually be fun watching the frisbee fly while getting exercise all at the same time!
Bring a camera- Maybe you are a photographer! Even if you are not, bringing your phone or even a great camera will definitely be worth it!
It's amazing how many great pictures you can take with your Nikon or Canon.
The clarity of pictures is just stunning, but even if you don't have a camera you can use your phone since you are sure to get a lot of memories that will last a lifetime!
Make a BBQ.
Making a family barbecue is one of the coolest things you can do at the beach.
Some places have BBQ grills scattered throughout the beach and you can definitely use those. Or if you have a portable BBQ then definitely bring that with you!
Walk the beach.
The best thing to do at the beach is to get some great exercise! Take a walk with your family or even by yourself.
You'll be surprised how many miles you walk since you can get lost in the moment by watching the waves splash.
Another great suggestion is if you bring your running shoes it would be a perfect time to get some running or jogging exercise to pump up your heart.
Swimming.
Another great exercise to partake in. You will not only burn calories and get a great workout but you will have lots of fun splashing in the waves.
Make a bonfire.
Just like the barbecue grills, some beaches offer fire pits. It's a great place to pack some marshmallows, graham crackers, and even chocolate!
It's the perfect place to have a beach bonfire with family and friends or even as a solo traveler!
There are a ton of things to do at the beach. Don't ever feel like you need to have someone there!
Sometimes the best travel is solo travel! Honestly, it is one of the nicest things to do since you not only experience peace but also tranquility without having to entertain others.
What to do at the beach as a solo traveler
Pack light- as a solo traveler it is essential to pack only the necessary things with you.
Since you may have to leave your belongings alone at times it's best to pack light so you won't have to worry about whether or not something may get lost or stolen.
Bring a good book to read- At last, no one bothers you while you read your favorite book at the beach!
You can definitely get a lot of reading done when you take your book! And the best part is that nobody will interrupt you while reading.
Bring your headphones- If you rather be listening to music while at the beach you can also do that!
Nobody will interrupt and you can finally get to listen to your favorite songs without worrying about tuning anyone out!  
Be sure to be aware of your surroundings since you don't want to be caught off guard by a wave or someone else. Keep a wary eye and maybe listen to music with one earbud or maybe on low volume
Bring a journal- If you love to write then definitely bring a journal with you!
It is amazing how much thinking you can do at the beach! Jotting down what your grateful for is the perfect place to start or if you are a freestyle writer than definitely take advantage of that!
Walk the Pier- If the beach you are staying at offers a pier then be sure to do that!
It's amazing what a stunning view you can get by just walking the pier. Most piers in California are free, but if you were to walk the piers in Florida then you may have to pay a small fee.
Even if you do, it is totally worth walking the pier! An amazing pier to walk in St. Johns Pier in St. Augustine Florida,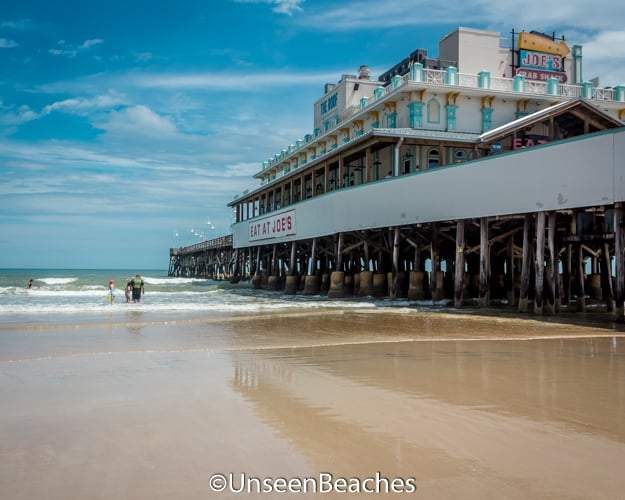 Bring a camera- If you don't plan on going in the water then bring your camera with you.
Sometimes it may be a little difficult if you were to bring valuables with you. If you plan on going inside the water then maybe it's best not to bring your valuable camera.
On the plus side, most phones have cameras with really good pixel and zoom lenses.
Be sure to invest in a little waterproof phone pouch to keep your phone sand free and waterproof!
Stay to take pictures of the sunsets- With your phone or even a camera to take pictures of the sunsets. It will definitely bring a lot of memories when you look back at those pictures.
Check out the local downtown- walking the beach downtown is also one of the must-things you should do!
It will definitely make it worthwhile. Stroll by local mom and pop shops and visit boutiques and restaurants.
You may even make friends as you travel to these areas. One such place is the New Smyrna Beach Shopping area filled with neat little beach memories.
Go to a museum- Most beach towns have a museum or lighthouse, especially the ones in Florida, there is always something monumental to visit.
Learning some beach history or even about the town, is usually one of the best places to start. You can even get some insider tips from local people if you are visiting a museum!
Conclusion
Regardless if you are traveling the beach solo, or with your ten cousins, aunts, and uncles, or even your friends, there is too much to do.
You can probably think of many other things to do that were not listed. This is just the tip of the iceberg. The beach is an area where you can get creative.
What are your favorite things to do at the beach??