The Monterey Bay Aquarium is one of the most popular tourist attractions in California, known for its stunning exhibits and commitment to ocean conservation.
However, with popularity often comes scrutiny, prompting the question: Is the Monterey Bay Aquarium truly worth the visit, or does it fall prey to the label of being overrated?
In this blog post, we'll explore whether the Monterey Bay Aquarium is worth visiting for travelers who want to experience more than just the beaches of Monterey Bay.
By the end of this post, you'll have a better understanding of what to expect from your visit and whether it's worth your time and money.
Overview:
History & Monterey Bay Aquarium Hours
I dug up some history that is worth mentioning on the beginnings of this place.
The Monterey Bay Aquarium dates back to the 1970s.
It was founded by a group of marine biologists, scientists, and community leaders who were passionate about showcasing the rich marine life of the Monterey Bay area.
Some of the key founders include Julie Packard, philanthropist and executive director of the aquarium, and David Packard, co-founder of Hewlett-Packard and a prominent philanthropist.
The aquarium's construction began in 1981, and it officially opened its doors to the public on October 20, 1984.
One of the unique aspects of the Monterey Bay Aquarium is its location.
It is situated on the site of a former sardine cannery on Cannery Row, which was made famous by John Steinbeck's novel of the same name.
The building itself is a historic landmark and has been beautifully renovated to house the aquarium's exhibits.
Since its inception, the Monterey Bay Aquarium has been at the forefront of marine conservation and education.
It was one of the first aquariums to focus on displaying marine life in naturalistic habitats rather than traditional tanks.
The aquarium has also been involved in groundbreaking research, including pioneering work on understanding and protecting the fragile kelp forest ecosystem.
Over the years, the Monterey Bay Aquarium has become a world-renowned institution, attracting millions of visitors annually and playing a vital role in inspiring people to appreciate and protect our oceans.
This aquarium is open 7 days a week – except it's closed on Christmas.
Hours are normally from 10 a.m. to 5 p.m.
What to Expect When Visiting
When visiting the Monterey Bay Aquarium, you can expect an immersive and awe-inspiring experience that will deepen your understanding and appreciation of the ocean and its diverse marine life.
Here are a few things you can expect:
Fascinating Exhibits
The aquarium features a variety of captivating exhibits that showcase the incredible diversity of marine life.
From mesmerizing jellyfish and playful sea otters to majestic sharks and colorful coral reefs, you'll have the opportunity to see and learn about a wide range of aquatic creatures.
Variety of Food Options
The Monterey Bay Aquarium Cafe offers a variety of food options, including soups, salads, and grilled dishes.
All of their food is locally sourced from fishermen, farmers, and ranchers.
In addition, there is also a dessert section that offers sweet pastries and fruit.
Prices range from $10 to $30, depending on the dish.
This cafe provides vegan, vegetarian, and gluten-free options for visitors with dietary restrictions.
I ordered the vegetarian tostada that had 2 tostadas with black beans, corn, cabbage, and avocado.
It was delicious and fulfilling!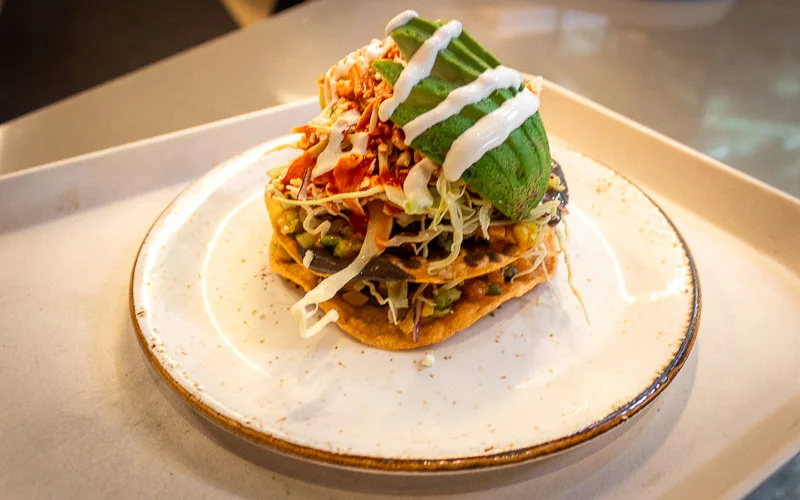 Conservation Focus
The Monterey Bay Aquarium is deeply committed to marine conservation.
As you explore the exhibits, you'll discover the important work being done to protect and restore ocean habitats.
And if you attend even some shows there is always talk about sustainable fishing practices, and raise awareness about the importance of preserving our oceans for future generations.
Educational Opportunities
The aquarium offers a range of educational programs and interactive exhibits designed to engage visitors of all ages.
You can attend informative presentations, participate in hands-on activities, and learn from knowledgeable staff and volunteers who are passionate about marine science and conservation.
Stunning Ocean Views
Situated on the picturesque Monterey Bay, the aquarium offers breathtaking views of the ocean.
You can admire the beauty of the bay and observe marine wildlife in their natural habitat.
Don't forget to explore the outdoor decks and enjoy the fresh sea breeze.
Pros and Cons of Monterey Bay Aquarium
There are numerous pros in my opinion that make Monterey Bay Aquarium truly worth visiting:
Stunning Exhibits:
The Monterey Bay Aquarium features stunning exhibits that showcase a diverse range of marine species.
For instance, one of my favorite exhibits worth checking out was the Kelp Forest exhibit.
This offers a captivating glimpse into the captivating yet mysterious wonders of the ocean underworld.
As you peak through the exhibit you develop a profound admiration for its stunning beauty and the intricate nature of these fragile kelp forests.
Which provide food and habitat for a wide variety of unique marine life.
Furthermore, you can spot playful sea otters and mesmerizing jellyfish along with majestic sharks and vibrant coral reefs.
These exhibits are designed to inspire awe and deepen your appreciation for the beauty and complexity of the underwater world.
Interactivity:
The Monterey Bay Aquarium offers numerous interactive experiences that allow visitors to get up close with marine life.
This is a perfect place for those wanting an immersive experience.
From touch pools where you can gently touch sea creatures to feeding shows and behind-the-scenes tours, there are plenty of opportunities for hands-on learning and engagement.
Ocean Views:
Situated on the picturesque Monterey Bay, the aquarium offers breathtaking views of the ocean.
You can take in the beauty of the bay while observing marine wildlife in their natural habitat.
The outdoor decks provide a serene setting to enjoy the coastal scenery.
Conservation Focus:
This aquarium is deeply committed to marine conservation.
They support various research and conservation programs and educate visitors about the importance of protecting ocean ecosystems.
By visiting, you support their efforts to protect and restore ocean habitats, promote sustainable fishing practices, and raise awareness about the importance of preserving marine ecosystems.
It's an opportunity to contribute to a worthy cause while enjoying a memorable experience.
These are a few pros worth mentioning, however, we can't ignore the cons of visiting the Monterey Bay Aquarium and asking ourselves if it's truly worth the visit.
These are some of the cons worth mentioning:
Cost:
The admission fees for the aquarium can be a bit high, especially for larger families or budget-conscious travelers.
Ticket prices are as follows as of 2023:
Senior (ages 70+): $49.95
Adult (ages 18-69): $59.95
Youth (ages 13-17): $49.95
Child (ages 5-12): $44.95
Furthermore, anyone under the age of 4 gets in for free.
It's important to mention as well that when buying tickets you will need to make a reservation first to see if the aquarium hasn't reached capacity.
Since this is a well-known destination sometimes it can get full – especially during summertime.
I recommend purchasing online to avoid long lines.
You can create an account online as well to leave a donation to the aquarium or checkout as a guest.
Crowds:
If there is one thing I must admit, it is that I hate crowds!
I try to avoid them if possible just like the plague, ha!
It's bad enough dealing with long lines, finding parking, and stressed-out people.
This aquarium can get crowded, especially during peak seasons and weekends.
My sister and I visited this place in July and there were a lot of families present.
Meaning it took us a while to get around all the exhibits and shows due to the large crowds.
No On-Site Parking:
Wondering where to park at Monterey Bay Aquarium?
Unfortunately, this place doesn't offer parking on-site.
You would need to find parking along Cannery Row and the streets.
Cannery Row Garage (CR1) offers plenty of parking space with several levels, however, expect to pay $20 for the day.
This parking lot is located at 601 Foam Street Monterey, CA 93940.
My sister and I found parking along the street that was metered.
We parked along Lot 21 in CR & Foam Street.
We paid for 5 hours at the meter which charged you $1.50 per hour.
In total, we paid $7, but it was like a 10-minute walk to the aquarium.
Accessibility opportunities, but limited mobility:
This aquarium does offer a variety of accessibility options.
Elevators and ramps are located throughout this place along with an accessible family restroom located on the second floor of the Open Sea wing.
Also, on the Open Sea wing, you can find a nursing lounge (they offer baby bottle heaters, plush nursing chairs, and other amenities) as well as an all-gender restroom.
This aquarium allows you to bring only service animals, however, they are not allowed during the bird shows at the Kelp Forest exhibit – so just be aware.
However, for those individuals who require mobility help know that this aquarium has only 15 adult-sized manuals and 5 bariatric wheelchairs.
Which are on a first-come, first-serve basis.
Not a lot for a popular aquarium, but there are some wheelchairs available for free of charge!
No Outside Food:
Please note that individuals with special dietary needs or those who prefer not to dine out frequently should be aware that bringing outside food unfortunately isn't permitted at this aquarium.
Distance from Other Attractions:
If you're planning a multi-destination trip, the Monterey Bay Aquarium may not be conveniently located near other popular attractions.
There is the Cannery Row area (right next door), but understand that Monterey isn't located directly near major cities such as San Francisco or Los Angeles.
So, for those looking for more centrally located attractions, you might require additional travel time and logistical planning.
Nearby Attractions
If you're looking forward to seeing what are some nearby attractions near Monterey Bay Aquarium there are a few worth mentioning:
Cannery Row:
This is the closest nearby attraction you can't miss that sits right near the aquarium.
It's a waterfront street that features shops, restaurants, and beautiful views of the Monterey Bay Harbor.
Old Fisherman's Wharf:
Old Fisherman's Wharf in Monterey Bay is worth visiting for its historic charm, vibrant atmosphere, and plethora of attractions.
Lined with seafood restaurants, shops, and boutiques, the wharf offers a delightful experience of coastal dining and shopping.
You can savor fresh seafood dishes, explore unique shops, and embark on whale-watching tours.
17-Mile Drive:
The 17-mile Drive is a picturesque route that winds through Pebble Beach and Pacific Grove, offering stunning views of the coastline, golf courses, and iconic landmarks.
Mile 17 is known for its scenic beauty, and it's not far from the Monterey Bay Aquarium.
Traveling along the 17-mile Drive can be a delightful experience, providing opportunities to enjoy the coastal scenery and perhaps even spot wildlife.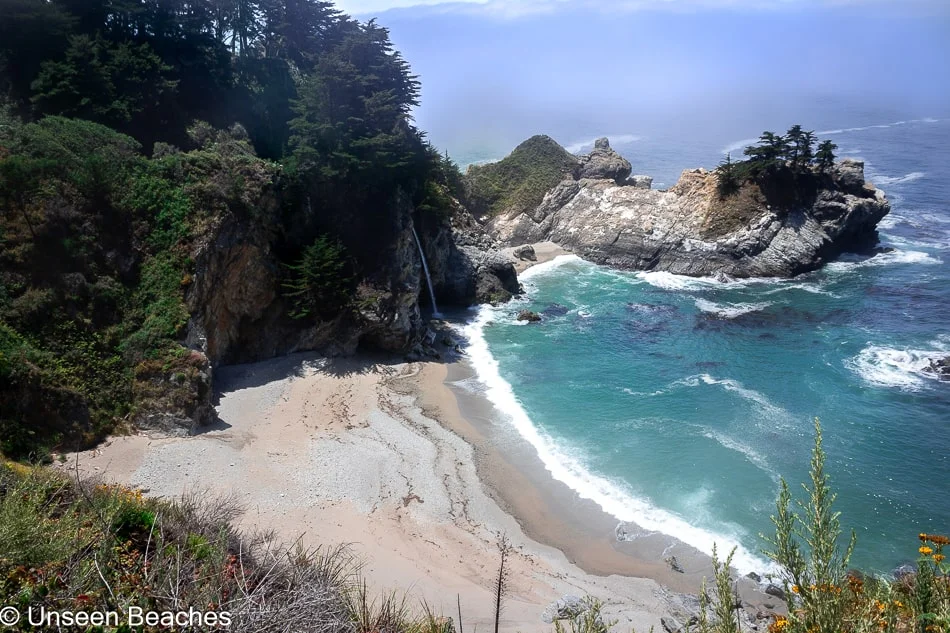 Big Sur:
The drive from Monterey to Big Sur is roughly around 45 minutes to an hour, depending on the specific starting point and traffic conditions.
Big Sur is renowned for its dramatic cliffs, redwood forests, and breathtaking views of the Pacific Ocean.
Popular attractions in Big Sur include McWay Falls, Bixby Creek Bridge, Pfeiffer Big Sur State Park, and the iconic coastline along Highway 1.
While it's a bit of a drive from the Monterey Bay Aquarium, many visitors to the area find the scenic journey along the coast to be well worth the time and effort.
10 Tips for an Enjoyable Trip
These are a few tips I feel can help you have an enjoyable time while visiting this place with family, friends, or self:
1. Plan Ahead:
Check the aquarium's website for important information such as opening hours, ticket prices, and any special exhibits or events.
Consider purchasing tickets in advance to avoid long queues – especially during summer times.
2. Timing is Key:
Visit during weekdays or early mornings to avoid crowds and have a more relaxed experience.
The aquarium tends to be busiest on weekends and during school holidays.
3. Allow Ample Time:
The aquarium is vast, and there's so much to see and explore.
Plan to spend at least 3-4 hours to fully immerse yourself in the exhibits and enjoy the educational programs.
4. Take Advantage of Guided Tours:
The aquarium offers guided tours that provide in-depth insights and behind-the-scenes access.
Consider joining one to enhance your understanding and make the most of your visit.
5. Check the Feeding Schedule:
Many exhibits have scheduled feeding times for the animals.
Consult the feeding schedule to witness these fascinating moments and learn more about the creatures' behaviors.
6. Dress Comfortably:
Wear comfortable shoes and clothing suitable for walking and standing for an extended period.
The aquarium can get chilly, so layering is advisable.
7. Bring a Camera:
New phones can capture unique details, but nothing compares to a Cannon or Nikon.
I take with me my Cannon EOS R6 wherever I go!
It's lightweight and captures moving objects.
Don't forget though to be respectful and follow any photography guidelines provided by the aquarium.
8. Enjoy the Outdoor Spaces:
Take a break from the indoor exhibits and explore the outdoor decks.
Enjoy panoramic views of the bay, relax, and maybe spot some marine wildlife in the water.
9. Check for Special Programs:
The aquarium often hosts special programs, such as guest speakers, special exhibits, or interactive experiences.
Check their website or inquire on-site to see if there are any additional activities during your visit.
10. Support Conservation Efforts:
The Monterey Bay Aquarium is a nonprofit organization dedicated to marine conservation.
Consider making a donation or supporting their initiatives by purchasing items from the gift shop.
Hopefully, this will help you prepare for your visit if someday you do get the chance.
Which in my opinion is worth checking out!
Remember to be respectful of the marine life and follow any guidelines provided by the aquarium.
F.A.Q.s.
Is it worth it to go to Monterey Bay Aquarium?
You may be wondering if Monterey Bay Aquarium is worth it.
And well to answer this question know that it depends upon personal preference.
Some people are not into marine wildlife while others are.
It is in my personal opinion a good experience to learn more about the unique wonders of the mysterious ocean.
What is so special about Monterey Bay Aquarium?
What makes Monterey Bay Aquarium so special is for several reasons:
Conservation Movement:
Its commitment to ocean preservation extends beyond the exhibits, making it a hub for marine research and rehabilitation.
In addition, the Monterey Bay Aquarium's Seafood Watch program, launched in 1999, is renowned for its influential seafood sustainability recommendations.
It has had a substantial impact on the seafood industry by guiding consumers, chefs, and businesses toward environmentally responsible choices.
Location & History Setting:
Its unique location near the coastline of Monterey Bay gives Monterey Bay Aquarium a worthwhile experience worth visiting.
With its position on the Pacific Ocean, Monterey Bay Aquarium stands as a gateway to the rich biodiversity found along the California coast, showcasing a wide range of species that are only native to that region.
Giving you an authentic and immersive experience.
In addition, this aquarium was built on a former sardine cannery in Monterey, California.
Giving it a unique establishment, unlike other aquariums across the U.S.
Educational Emphasis:
A standout feature of the Monterey Bay Aquarium lies in its strong commitment to education.
Through interactive exhibits, live presentations, and diverse educational programs, the aquarium addresses a broad audience, ensuring that marine science becomes accessible and captivating for visitors of all age groups.
Exhibits:
The Monterey Bay Aquarium exhibits make it worth visiting.
Unique ones such as the Kelp Forest and Open Sea exhibits, among other notable attractions, offer a glimpse into the splendor and intricacy of our marine ecosystems on this planet Earth.
Furthermore, the Sea Otter Exhibit is renowned for its up-close view of these captivating marine mammals.
This exhibit not only delights visitors but also raises awareness about the conservation challenges that sea otters face.
These exhibits give you a unique perspective on the marine world.
Community Engagement:
In addition to drawing tourists, the aquarium takes an active role in engaging with the local community through various outreach programs, events, and collaborations.
By reaching out to the community, the aquarium fosters a sense of connection and involvement, creating opportunities for education, awareness, and mutual benefit.
Through these initiatives, the aquarium establishes itself as a valued partner and resource, working hand in hand with the community to promote marine conservation and appreciation.
Community Engagement:
In addition to attracting tourists, the aquarium takes an active role in fostering a sense of environmental stewardship and encouraging community involvement in marine conservation.
Through various outreach programs, events, and collaborations, the aquarium actively engages with the local community.
By doing so, it creates opportunities for individuals to become more connected to their environment and empowers them to take part in protecting marine life.
These initiatives not only benefit the community but also contribute to the overall conservation efforts, making the aquarium a valuable catalyst for positive change.
These are just a few reasons that make this place worth visiting sometime if you're near the area.
How long should you spend at Monterey Bay Aquarium?
The amount of time you should spend at the Monterey Bay Aquarium can vary depending on your interests and schedule.
On average, I am guessing visitors spend around 2 to 3 hours exploring the exhibits and enjoying the various displays.
However, if you have a particular interest in marine life or want to take your time to fully immerse yourself in the experience, you may choose to spend more time there.
My sister and I took 5 hours exploring this place!
We tried to soak in as much knowledge and make our way around all the exhibits.
We love learning and also ate at their Cafe.
Is Monterey Bay Aquarium one of the best in the world?
Yes, the Monterey Bay Aquarium is widely regarded as one of the best aquariums in the world.
Depending on how you ask.
However, this place has earned a stellar reputation for its stunning exhibits, educational programs, and commitment to marine conservation.
The aquarium is known for its innovative and immersive displays, including the famous Kelp Forest exhibit, which provides a glimpse into the underwater ecosystem of the California coast.
Additionally, the Monterey Bay Aquarium is actively involved in research and conservation efforts, working to protect and restore marine habitats.
Its dedication to education and conservation, combined with its beautiful and engaging exhibits, has cemented its status as a top-tier aquarium globally.
Conclusion
Overall, visiting the Monterey Bay Aquarium promises to be an enriching and inspiring experience.
Hopefully, it will deepen your connection to the ocean's wonders and leave you with a greater sense of responsibility to protect and conserve our marine ecosystems.
Let us know in the comments below what your experience was if you got the chance to visit this place!