New Smyrna Beach is probably a beach that you probably won't ever come across in Florida.
Top beaches like Miami, Key West, or Clearwater Beach usually hold the prize of most visited and documented.
However, I'm not going to write more on those beaches, but rather on the ones that are not common and still worth venturing off to explore. 
Hope this cheat sheet helps if one day you decide to venture off and explore this beach.
WHERE IS NEW SMYRNA BEACH, FLORIDA LOCATED?
New Smyrna Beach is located on the East Coast of Orlando. It is found above Mary McLeod Bethune Beach Park and below Daytona Beach. 
The estimated drive is about an hour and a half and less than 80-mile drive.
HEADS UP: WHAT TO EXPECT
First and foremost be prepared of what to expect when traveling to Florida in the summer.
If you are like most people coming to Florida in the summer, expect hot humid weather along with thunderstorms and rain.
The average temperatures are in the high 80s for New Smyrna Beach during the months of May through August. 
When we first explored New Smyrna Beach, in June, the weather was 83 degrees, however, the weather forecast indicated thunder and lighting in the afternoon.
However, within 2 hours of exploring and enjoying the beach, we were met with rain and lighting.
It was unfortunate, that it came earlier than forecasted, but that is mother nature for you.
Several people were still swimming in the ocean as we packed up. But, I personally enjoy exploring the coast when it's nice and sunny.
Not with rain and thunder. Check the forecast before heading to the beach and don't say I never warned you.
THINGS TO SEE
If you enjoy fishing or walking on the pier don't count on finding one in New Smyrna Beach.
You are better off visiting Clearwater or Cocoa Beach for that.
But, there are still a few things worth checking out: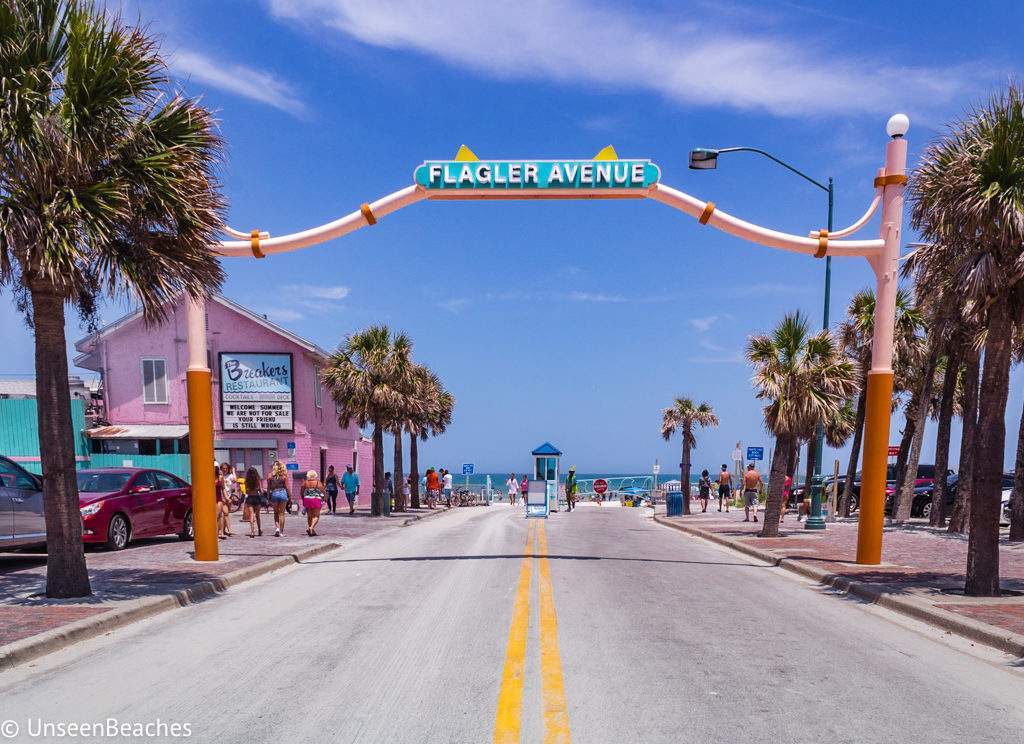 FLAGLER AVENUE
You can find a number of different shops and restaurants on Flagler Avenue to check out. If you are into surfing and forgot your surfboard then you're in luck.
There is a surf shop called Rip Curl that sells wetsuits to surfboards. If you forgot your bathing suit,  SEI Swim & Boutique shop has over 100 different styles of swimsuits.
While walking, we stopped at several boutique shops. There is a variety of different women clothing shops. At the shop Sue Who we saw handbags to even jewelry necklaces.
One of the interesting things we found was a nursery by the beach. At Garden Arts, we saw all sorts of different plants and flowers.
From annuals, roses, to even lemon trees.
The employee at the nursery also showed us an orchid that has grown on tree for over a year and even survived the tropical cyclone of Hurricane Matthew.
10 NEW SMYRNA BEACH RESTAURANTS TO CHECK OUT
Garden Fusion-Vietnamese cuisine
Panheads Pizzeria-Italian cuisine
Norwood's Eatery & Treehouse Bar-Seafood cuisine
Corkscrew Bar and Grille-American cuisine
Off the Hook Raw Bar & Grill-American cuisine
That's Amore-Italian cuisine
Mi Mexico Restaurant-Mexican cuisine
El Patron Authentic Mexican Restaurant
Cafe Verde-Vegetarian cuisine
Lost Lagoon Wings and Grill-American cuisine
4 DESSERT SHOPS IN NEW SMYRNA BEACH
Donna's Canal Creamery-Ice Cream
Beachside Candy Company -Candy Shop
Treats on the Beach- Ice Cream Shop
Mon Delice-French Bakery
Flagler Avenue Beachfront Park
This area is located at the end of Flagler Avenue. It contains a small boardwalk facing directly into the ocean.
Giving you a first-class seat in seeing the sunrise from the ocean.
There are restrooms here as well along with showers to wash off from the sand. Moreover, we saw the main tower of the lifeguard on duty here.
Parking stops are found here and you pay a fee of $10, however, parking space is limited. So, just be aware if you are arriving later in the day. 
SMYRNA DUNES PARK
The Smyrna Dunes Park offers a variety of different activities to partake in. There is a boardwalk over a mile long where Fishing is permitted.
In addition, you can find several trails to explore. We saw boats here as well as people swimming on the beach.
No lifeguards are present here so be careful if you swimming alone.
 One cool feature that we noticed was that dogs are permitted at this beach but, they must be on a leash at all times. Expect a parking fee of $10. 
RECAP
Hopefully, this cheat sheet prepares you on what to expect of New Smyrna Beach if you ever decide to check it out.