When it comes to views, nothing beats the beaches in Georgia and South Carolina.
With miles of coastline and stunning landscapes, these beaches should be at the top of your list of places to see in your lifetime.
We put together a list of the top 14 beaches for you so let's dig in!
Overview
7 Beaches in South Carolina
7 Beaches in Georgia
7 Beaches in South Carolina
This post contains affiliate links.
This means that if you decide to click and buy something we may receive a small commission (at NO additional cost to you!) See my affiliate disclosure here.
South Carolina is not only an excellent state to visit for its rich history and attractions, but it's also home to magnificent beaches.
Stretching for 187 miles along the Atlantic, South Carolina's coastline boasts some of the USA's most beautiful and unspoiled beaches.
Some of the most popular beaches in South Carolina for tourists are located on the Grand Strand.
A 60-mile stretch of perfect sandy shores is situated between Georgetown and the Little River area.
We put together a list of our top beaches in South Carolina.
1. Folly Field Beach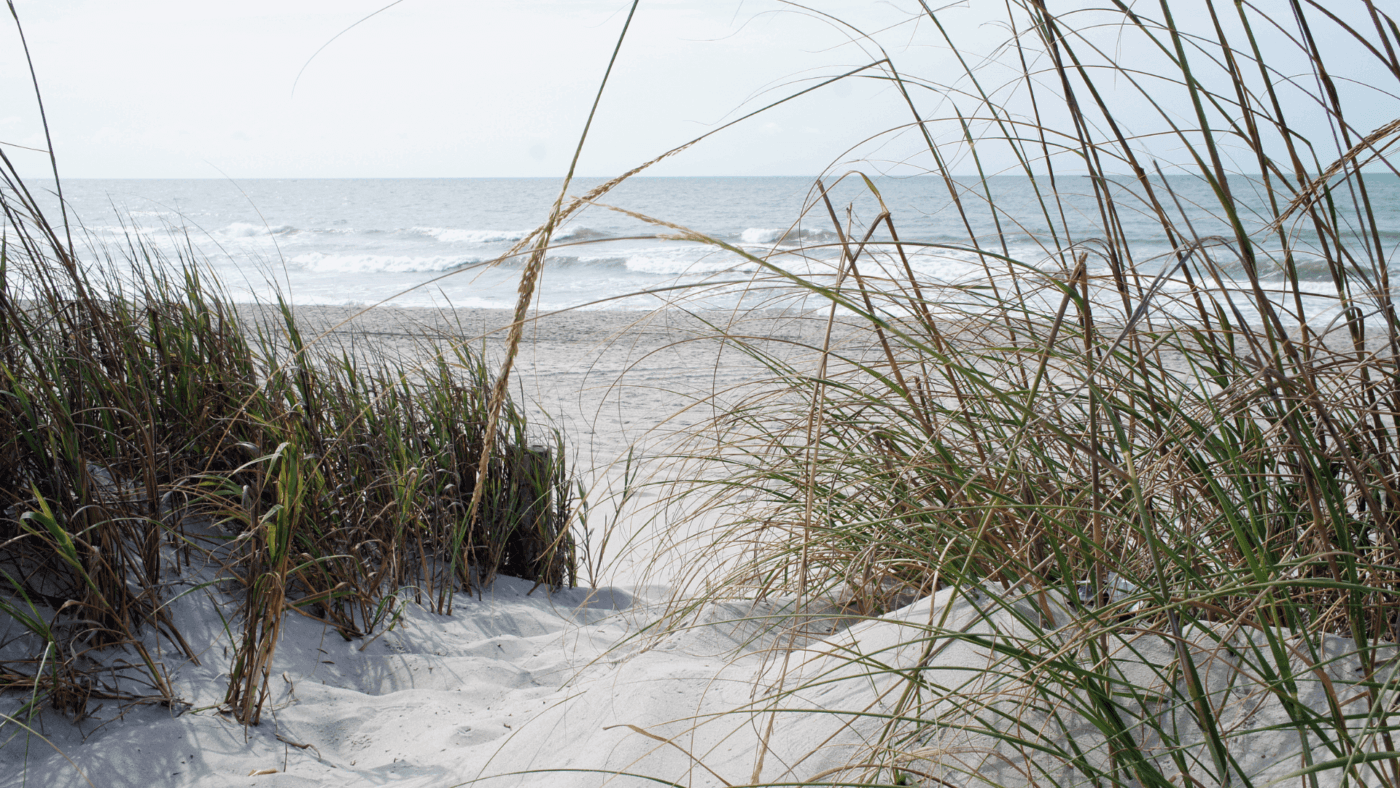 Folly Beach is another excellent sunspot within easy reach of Charleston.
Just a 20-minute drive from downtown, you're on Folly Island, home to Folly Beach and its fantastic fishing pier.
Don't forget to pack your rod, which also makes the perfect backdrop for a romantic selfie.
Other fun things to do at Folly Beach include outdoor adventures.
Sea kayaking and paddleboarding (plenty of rental locations are located nearby), surfing (lessons are available), and dolphin spotting cruises, to name but a few.
It's also a pleasant beach to stroll along while enjoying the ocean views.
For a truly unique experience, rent a kayak and paddle around the inland shore of Folly Beach Country Park.
Along the way, you'll likely see some marine wildlife, including dolphins, stingrays, and even bonnethead sharks.
Folly Field includes a bona fide footpath to the beach region.
This is one of the more modest seashores in Hilton Head it is well known to local people and travelers.
This reduced beach is about halfway along the Hilton Head shore.
Guests venturing to every part of the shoreline will realize they are mostly done when they arrive at this pleasant oceanside park.
Folly Field Beach is ideal for a road trip and requires negligible pressing or planning.
It offers every one of the essential conveniences for a day at the beach.
Umbrella rentals, public bathrooms, and many neighborhood vacation spots are accessible alongside metered stopping choices.
Beach Parking: There are two small parking garages with metered spaces
Lifeguards: During the mid-year oceanside season
Hotels Nearby:
2. Myrtle Beach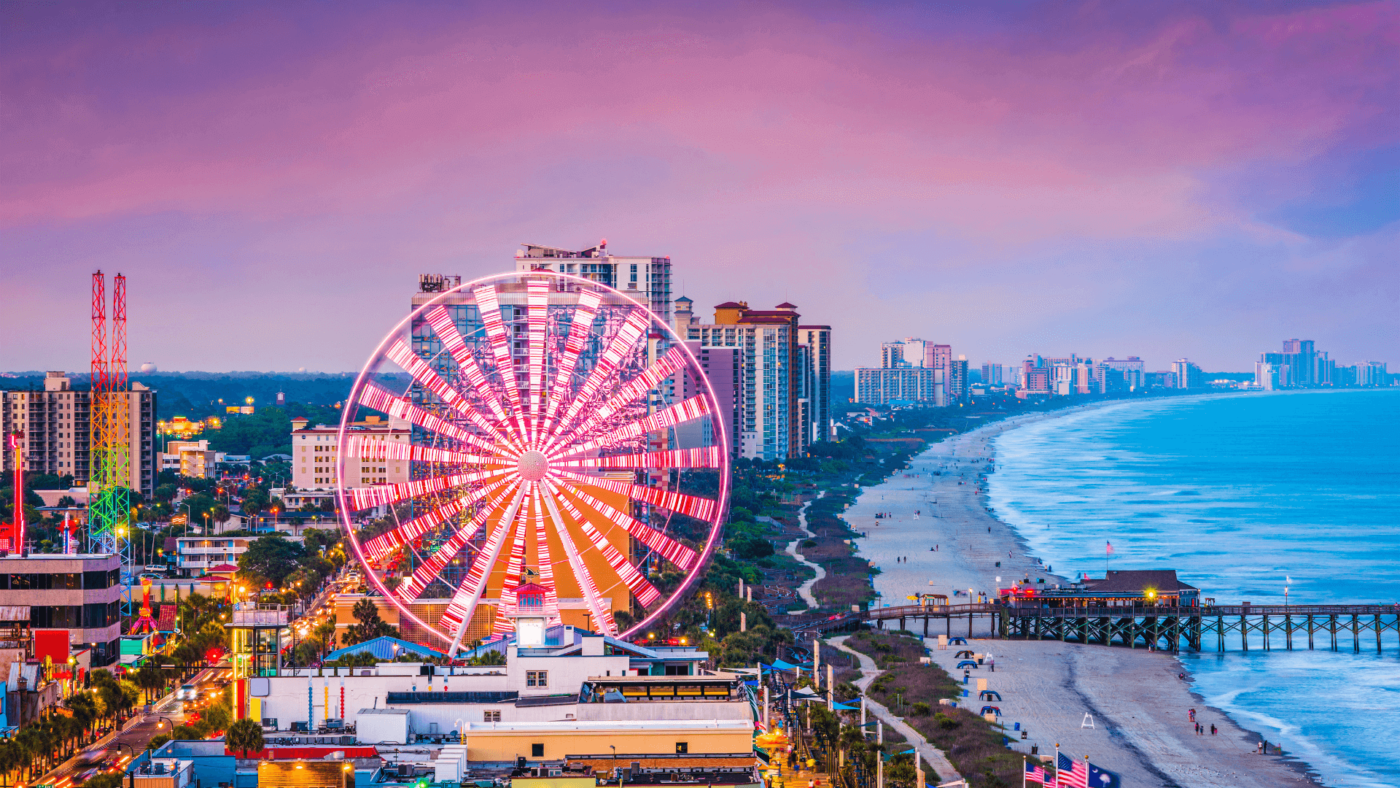 In terms of the volume of visits, Myrtle Beach is the most popular beach destination in South Carolina.
While much of the draw is due to its many family-friendly tourist attractions, beachfront resorts, and diverse entertainment opportunities.
The destination's magnificent white-sand beaches are what keep them coming back.
Stretching for 60 miles to the north and south of the main beachfront area with its funfairs and theme-park-style attractions, Myrtle Beach certainly seems endless… as do the opportunities for fun.
The beach and its extensive boardwalk offer a multitude of activities for everyone to enjoy.
From thrilling adventures like surfing and scuba diving to simpler pleasures like shell collecting and sandcastle building, there's something for every interest.
Whether you prefer an active day or simply want to unwind under the sun, the beach provides the perfect setting for relaxation and recreation.
For those wanting something a little less hectic, head a little farther up the coast to North Myrtle Beach.
While the beaches are just as lovely, they're generally quieter the farther away you travel from the busy tourist attractions of the main beach area to the south.
There's plenty of room to spread out here, whether you want to hit the water and swim, parasail, sea kayak, or hang out and enjoy the sunshine.
The beauty of Myrtle Beach itself and the generous array of places to stay remain unchanged.
Resorts, hotels, motels, and condos stretch densely back from the beach to offer accommodations to about 500,000 sun and fun-seekers during the summer.
The strip along Ocean Boulevard still offers its wax museum, museum of oddities, and endless T-shirt and gift shops.
The NASCAR Speed Park remains the place for speed demons young and old to test their skills on multiple tracks.
More than 100 golf courses – many with championship layouts – await the golfer, and nightlife offers live music at places like Dolly Parton's Dixie Stampede, Le Grande Cirque at the Palace Theater, and the House of Blues.
Beach Parking: Myrtle Beach has parking meters in areas where parking is in high demand.
Meters help manage public spaces so that more people can park, and they help create parking turnover to keep spaces from being monopolized for long periods.
Lifeguards: Lifeguards are stationed on the north section of Myrtle Beach State Park from mid-May through mid-September.
Hotels Nearby:
3. Huntington Beach State Park
Here's a South Carolina beach that appeals as much to sunseekers as it does to nature lovers and birdwatchers: Huntington Beach State Park.
Located just 30 minutes drive south along the coast from Myrtle Beach.
Huntington Beach is an oasis of calm compared to many of the much busier cities and extensive town beaches in Palmetto State.
Covering an area of some 2,500 acres of nature preserve, the park features a pristine three-mile stretch of beach that's as much fun for those traveling with toddlers as it is for teens and young adults.
The sandy, shallow waters adjacent to the shore are perfect for small children to play in, while those who want more excitement don't have to go too far out to sea to enjoy excellent surfing.
It's also a popular spot for fishing, as well as camping, and picnics.
The area is teeming with over 300 bird species, both migratory and permanent residents, offering abundant opportunities for birdwatching.
Visitors can enjoy exceptional views of these birds from a convenient and easily accessible hiking trail that is connected to the beach's boardwalk and parking area.
Biking is also permitted. History buffs will want to check out Atalaya Castle, a unique 1930s-era mansion that can be visited.
A gift shop is located on-site, too, and sells everything you'll need to ensure a safe and enjoyable family day (or two) at the beach.
Beach Parking: There is virtually no free parking at the beaches of Huntington Beach though residential streets nearby offer free parking.
Lifeguards: There is a designated swimming area at South Beach where lifeguards are on duty.
Hotels Nearby:
4. Kiawah Island
The closest you'll come to paradise in South Carolina is Kiawah Island.
This makes our list of one of the top beaches in Georgia and South Carolina worth visiting.
This private Island features 10 miles of beautiful beaches backed by dunes, lush marshes, and maritime forestry, translating to beach scenery that is simply unmatched.
Most of the Island's beaches are privately owned, making them only accessible to property owners, guests, and renters.
However, Beachwalker County Park features a public stretch of sand with amenities like seasonal lifeguards and outdoor showers.
Thanks to the luxurious Kiawah Island Golf Resort, Kiawah Island's landscape also yields several scenic trails, waterfront golf courses, and some pretty sweet digs.
Beach Parking: free parking in the offseason
Lifeguards: Ocean Rescue Lifeguards are responsible for approximately one and a half miles of beach along with three barrier islands in the Charleston area – Kiawah Island, Folly Beach, and the Isle of Palms.
Hotels Nearby:
5. Driessen Beach Park
Driessen Beach is an excellent place to bring family or enjoy the sun with a group of friends.
The beaches are sandy, and you might come across some pretty decent shelling as you walk along the beach.
There are grills and picnic tables on-site so that you can enjoy a full day at the beach.
Kids will love the playground, and there are seasonal beach rentals available so you can pick up an umbrella and some chairs.
This wooded location provides parking and beach access.
Showers and restrooms are available here.
The forested land around it gives a nice break from the heavily-developed portions of Hilton Head.
Beach Parking: Driessen Beach Park has one of the largest parking lots, with over 200 spaces available.
All of the parking spaces are numbered.
Lifeguards: Lifeguards are near the beach throughout the mid-year oceanside season
Hotels Nearby:
6. Sullivan's Island Beach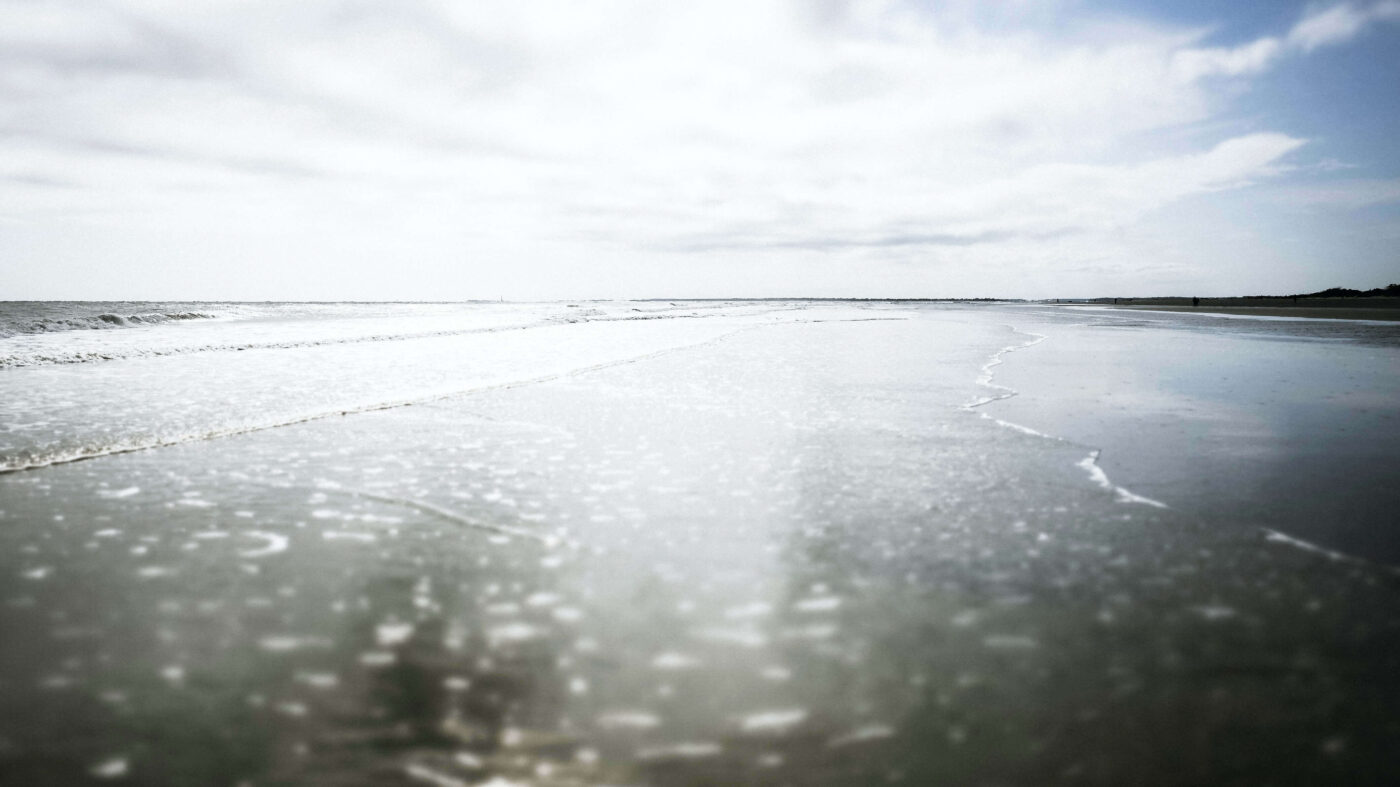 Just 20 minutes away from downtown Charleston and located on the city's harbor mouth is Sullivan's Island.
This is one of our top beaches in Georgia and South Carolina for its largely unspoiled natural setting.
The beach's limited public facilities may not cater to families with young children, but it offers ample space for teenagers and couples to enjoy.
The absence of crowded areas allows visitors to spread out and relish the beauty of this captivating beach.
There's also the fun quotient, thanks to the availability of water sports rental services, including everything from Jet Skis to surfboards.
As one of the most minor inhabited islands on the South Carolina coast, there's also a charming community feel.
This is further enhanced by the pleasant local dining options, shops, and B&Bs.
Named for Captain Florence O'Sullivan, who was stationed at the Island's lighthouse in the late 17th century; this Island guards the entrance of Charleston Harbor.
Its streets boast quintessential beach houses with screened porches, porch swings, and ceiling fans.
Ocean breezes keep bike riding pleasant almost all day for trips to the beach or down to Fort Moultrie to look back at 200 years of history.
Including the first decisive defeat of the British in the Revolutionary War and the initial shots on Fort Sumter.
In July, the Island also became the site of the first "bench by the road" to be placed and dedicated by the Toni Morrison Society, a non-profit group dedicated to examining the author's work.
This project grew out of a comment she made that no memorial existed to commemorate enslaved people and their history
– "There's no 300-foot tower; there's no small bench by the road."
This first bench of many to be placed at significant sites in black history, along with Morrison's novels that honor that history, gives all who visit a place to sit for reflection or discussion.
Sullivan's Island was chosen because it was the point of entry for more than 40 percent of the enslaved people who entered this country.
In March, the Fort Moultrie Visitors Center unveiled its new African Passages exhibit that includes artifacts of the slave trade and haunting Middle Passage charcoal works of Thomas Feelings, and the exuberant Gullah art of Jonathan Green.
Beach Parking: There are no municipal parking lots, and all public parking for day visitors is on-street.
Lifeguards: there are no lifeguards on duty here.
Hotels Nearby:
7. Edisto Beach
Edisto Beach bills itself as one of the last family-friendly beaches in South Carolina, thanks to minimal development.
With fewer than 600 residents year-round, Edisto Beach is very residential and, as such, devoid of the crowds that descend on other South Carolina beach spots.
Explore the shore that snakes along Palmetto Boulevard or head over to Edisto Beach State Park for hiking and biking trails and a nearly 2-mile stretch of seashell-covered sand.
Regarded as one of the last uncommercialized beach areas in South Carolina, Edisto Beach has a unique charm that makes it particularly attractive for those who like a quieter beach experience.
The town of Edisto Beach itself is worth the hour-long journey from Charleston and is as famous for its restaurants as it is for its shops, galleries, quaint bed-and-breakfasts, and relatively laid-back vibe.
In addition to its excellent swimming (without lifeguards, so keep an eye on the kids), adventurous types can explore the unspoiled northern section of the beach, belonging to Edisto Beach State Park, on kayaks or paddleboards.
Other fun things to do include beach-side camping, fishing, and, come nightfall, a delightful dolphin-watching or sunset cruise.
The park also offers some great trails to follow, leading to some tranquil places to stop and relax on the beach.
Beach Parking: Free parking for the beach is available at the public beach access points, or visitors can pay to park at Edisto Beach State Park.
Lifeguards: Edisto's beaches have no amenities, and there are no lifeguards on duty
Hotels Nearby:
**Most of these places are owned by Wyndham – most accommodation is vacation rentals and condos.
7 Beaches in Georgia
Georgia is a southeastern U.S. state whose terrain spans coastal beaches, farmland, and mountains.
Atlanta is home to the Georgia Aquarium and the Martin Luther King Jr. National Historic Site, dedicated to the African-American leader's life and times.
Savannah is famed for its 18th- and 19th-century architecture and leafy public squares.
Augusta hosts the Masters' Golf tournament.
Georgia boasts some of America's best beaches.
Nearly 100 miles of soft white sand cover its Atlantic Ocean shoreline while other pristine strands flank the state's sparkling lakes.
Barrier islands (a.k.a. the Golden Isles) pepper the coast, serving up more idyllic places to get sand between your toes.
If you're looking for a kid-friendly spot to while away a day building sandcastles, SUPing, or playing a game of pickup volleyball, you'll find plenty of options the whole family will love.
Were you hoping for a quieter, more romantic setting?
Georgia offers a slew of serene and secluded beaches perfect for couples.
Luxury hotels caught on to the area's beauty many years ago, which means it's easy to find a fabulous resort to stay in while resting your sun-drenched head.
Before you go, use our list of the best beaches in Georgia to help plan your trip.
8. Cumberland Island National Seashore
Georgia's southernmost barrier island is the place to see wild horses roaming the beaches and camp along the seashore in one of five National Wilderness sites.
Guests also can enjoy a more elegant retreat at the distinctive Greyfield Inn.
Once the site of several lavish homes built by Thomas Carnegie, brother of Andrew, Cumberland Island is now a vital, secluded wildlife sanctuary with limited overnight accommodations.
The Island offers ranger-guided tours and daily craft activities for children.
It is also possible to take in the Island on your own by enjoying the solitude and sanctuary of the marshes, dunes, ponds, beaches, forests, and lakes.
Other island wildlife includes sea turtles, otters, blue herons, snowy egrets, and wood storks.
The Island also has a few historical sites, including the Dungeness Ruins, the Plum Orchard Mansion, and the First African Baptist Church in the Settlement.
Greyfield Inn, the only remaining home from the Carnegie estate, has only 16 rooms, but non-guests can also dine there.
Any visit to the island begins with a 45-minute ride from St. Mary's, Ga., on the Cumberland Queen ferry, which requires reservations that can be made as much as six months in advance.
The heaviest ferry bookings are in the summer months.
Beach Parking: All visitors to Cumberland Island should park in the lot one block west of the Mainland Visitor Center.
Lifeguards: there are no lifeguards
Hotels Nearby:
9. Tybee Island
Located in Chatham County, Georgia, Tybee Island is a city and an island in the easternmost end of the state and a popular tourist destination for visitors from Savannah and the rest of the world.
Strategically placed near the mouth of Savannah River, Tybee Island was once frequented by pirates.
Also known as Savannah Beach due to the closeness of the two towns, Tybee is a paradise for birdwatchers.
Herons, Egrets, and Osprey can be easily spotted.
The Island typically attracts a lot of families and couples who wish to spend their beach holiday relaxing on the smooth sand or biking barefoot around the beautiful beach town.
Seafood lovers will especially love the variety and taste of various seafood delicacies around the town.
While the Civil War Fort and the famous Tybee Island Lighthouse are the two primary attractions, swimming, kayaking, and other water sports also attract many tourists.
Beach Parking: It has the biggest parking lot of all the beaches, located between 14th and 18th streets, in which all of the spaces are numbered and must be paid for from 8 a.m. to 8 p.m. every day, using the Pay & Display Stations.
Lifeguards: Constant lifeguards, which make this the ideal place for families
Hotels Nearby:
10. St. Simons Island
The smallest of Georgia's Golden Isles, St. Simons Island, is on the southeastern coast between Savannah and Jacksonville.
Also known as "The East Beach," the Island serves as a residential community and a seaside resort.
The Island's warm climate, striking coastline, a plethora of water adventures, natural ambiance, and historic sites.
Including, shops and restaurants are some of the major factors that attract visitors from all around the world to this beach retreat.
White-tailed deer, raccoons, alligators, terrapins, marsh rabbits, and native and migratory shorebirds are a famous sight amidst the vivid landscape of St. Simons Island.
The beach waters of the Island see a lot of marine life such as right whales, dolphins, a wide variety of gamefish, and at times even manatees.
Some of the major attractions on St. Simons Island include Fort Frederica National Monument, Christ Church, and Cemetery, the Bloody Marsh Battle Site, Bloody Point Lighthouse, and Pier Village.
The Pier Village is home to many beachside shops and restaurants that offer a variety of food choices with stunning views of the ocean.
Beach Parking: Parking is found straightforwardly around the ocean.
Lifeguards: Lifeguards are near the beach throughout the mid-year oceanside season
Hotels Nearby:
11. Jekyll Island State Park
The only self-sustaining state park in Georgia, this island is in the midst of a multi-year, multi-faceted revitalization project to spruce up as a vacation and convention destination.
The Jekyll Oceanfront Resort became the first revitalization project in November 2008.
It offers one- to three-bedroom units on a 10-acre property in two-story buildings.
Also new on the Island is The Georgia Sea Turtle Center, which provides evening turtle walks in June and July and morning hatchling walks in August and September.
In addition, the center offers Arribada Adventures, a family-based program for those who want to learn about the life histories of the sea and other turtles.
Jekyll also boasts the newly dedicated memorial to the Wanderer, the last known slave ship to come to land in Georgia and the previous slaving expedition is known to have reached the United States without repercussions.
The Wanderer exhibit can be seen at the St. Andrews Picnic Area on the south end of the Island.
Also well worth a visit is Millionaires Village.
From 1886 to 1947 was a winter hunting resort for J.P. Morgan, Everett Macy, Joseph Pulitzer, William Rockefeller, and Cornelius Vanderbilt.
The Great Depression and World War II led these wealthy families to abandon their coastal Georgia retreats.
Some of those homes have been restored and preserved and are open for touring.
Two cottages have also been renovated and serve as guest rooms of the Jekyll Island Club Hotel.
This distinctive Victorian-style resort was built originally as a club for the Island's wealthy visitors.
This fall, the Jekyll Island Club will expand its offerings to include the oceanfront Hampton Inn and Suites, part of the revitalization plan and under construction on the previous Holiday Inn and Suites site.
Later developments will consist of redeveloped shopping and entertainment areas along the beach.
Jekyll has golf and other recreational options as well.
Beach Parking: Vehicle entry to Jekyll Island requires a parking pass that must be purchased online in advance or at the entry gate upon arrival on the Island.
Lifeguards: No
Hotels Nearby:
12. oSSABAW iSLand
Ossabaw Island makes our top beaches in Georgia and South Carolina worth visiting.
It is considered the third-largest island in Georgia.
Over 26,000 acres offer fishing, boating, and swimming facilities for its visitors. 
Visitors can also enjoy camping at one of the three campsites (not all campsites offer water and electric hookups) but must reserve ahead of time.
To get to the island you need to go by boat.
However, you can participate in several day trip tours on the island that provide boating transportation.
For instance, the Ossabaw Loggerhead Turtles offers tours to learn about turtle conservation with transportation included.
Be sure to check out Ossabaw Island Homepage which offers a listing of all the trips.
Unfortunately, there are no food places on the island so you will need to prepare by bringing your own snacks and water.
Beach Parking: None, only boat transportation – if doing an Ossabaw Island trip transportation is included in tours
Lifeguards: Lifeguards are not present
Hotels Nearby:
13. Sapelo Island
Sapelo Island makes our must-see beaches in Georgia and South Carolina for its historic nature and it is Georgia's fourth-largest barrier island, 60 miles south of Savannah.
The ferry ride from Meridian requires proof of a reservation for an island tour, a campsite, or one of the Island's few lodgings.
On the boat, you could find yourself with a dolphin escort, and once you arrive, the Island features a wealth of Geechee (Georgia's sea island equivalent to Gullah) culture and marsh-fed wildlife to explore.
Reynolds Mansion provides a beautiful setting for group events.
The Wallow Guest House, located in the Hog Hammock Community made up of descendants of Spalding plantation slaves, includes individual rooms.
The Georgia Department of Natural Resources offers an artist-in-residence program.
The Sapelo Island Visitors Center of Meridian exhibits the Island and sells tickets for round-trip ferry rides and an island bus tour.
Beach Parking: Metered stopping is accessible in the parking garage.
Lifeguards: During the late spring oceanside season.
Hotels Nearby:
14. Little St. Simons Island
St. Simons Island makes our list of beaches in Georgia and South Carolina worth visiting.
This is a privately owned place by Henry "Hank" Paulson, Jr., the former US Treasury Secretary and Goldman Sachs CEO, and his wife Wendy.
They spent almost $33 million to acquire Little St. Simons Island, a roughly 11,000-acre barrier island that is only accessible by boat.
There are just a few facilities on the island, including an eco-lodge with a capacity for 32 overnight visitors.
The Lodge houses only 30 guests with a package that includes three family-style meals a day, drinks at cocktail hour, and equipment for activities such as horseback riding and fly fishing.
Three naturalists on staff give nature talks and tours about the abundant wildlife on the untouched island.
Day trips are available by reservation only.
They run from 10:30 a.m. to 4:30 p.m. and start with a ferry ride from Hampton River Club Marina.
They include an island tour, a lunch of Lowcountry specialties, and an afternoon on the beach.
Beach Parking: No
Lifeguards: No
Hotels Nearby: **None
**Except The Lodge has accommodation (the only place you stay on this private island)
F.A.Q.s
What Is The Prettiest Beach In Georgia?
The prettiest beaches in Georgia include:
St. Simons Island
Cumberland Island
Little St. Simons Island
Jekyll Island
Sapelo Island
What Beach In South Carolina Is Closest To Georgia?
A few beaches lie near Georgia and South Carolina.
From Atlanta, Georgia to Brighton Beach, South Carolina:
= Shortest distance 4 hrs and 6 mins (depending on traffic)
Hartsfield – Jackson Atlanta International Airport is the most traveled airport in Georgia.
So, if you fly into Georgia most airlines will have routes from here.
You will definitely need to rent a car if you plan on visiting Brighton Beach, South Carolina.
There is no train that runs here.
DiscoverCars is our recommended go-to car rental site when it comes to finding affordable rental cars.
Just type in your destination pick-up location in the search bar along with the dates and it compares different car rental prices for you.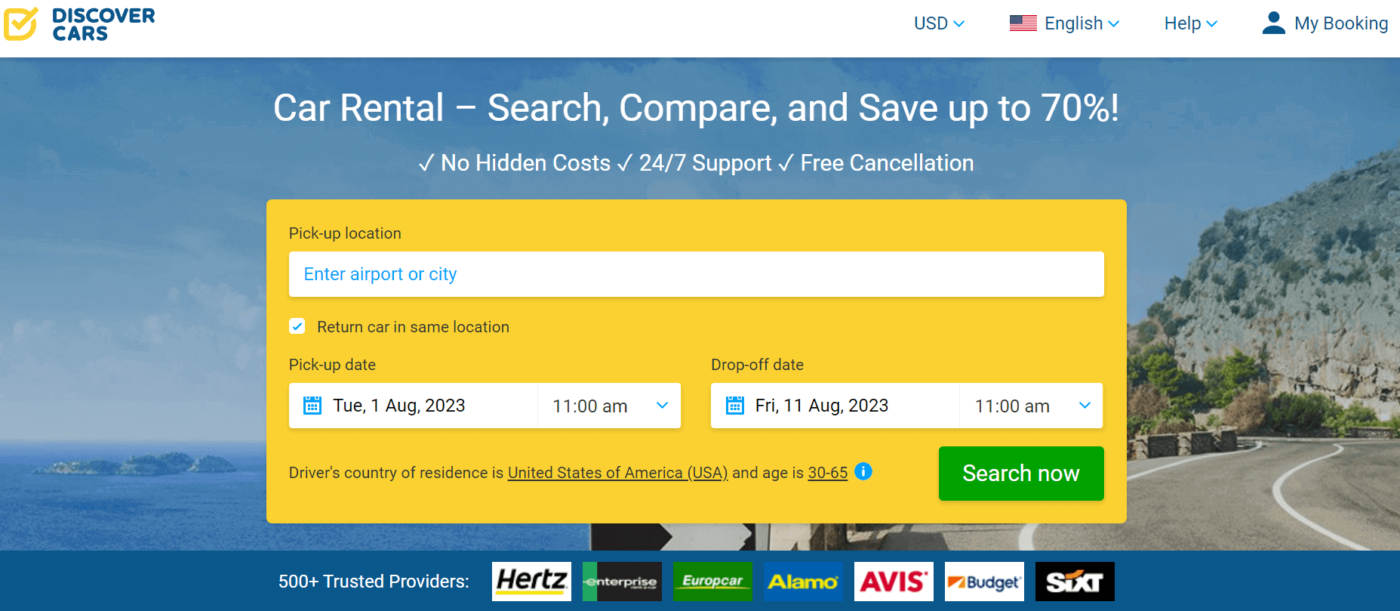 From Atlanta, Georgia to Hilton Head Island, South Carolina:
= Shortest distance is 4 hrs and 9 mins (depending on traffic)
If you are coming from Savannah, Georgia, then the beaches in Georgia and South Carolina are a lot closer than if you were coming in from Atlanta, Georgia.
From Savannah, Georgia to Brighton Beach, South Carolina:
= Shortest distance 41 mins (depending on traffic)
From Savannah, Georgia to Hilton Head Island, South Carolina:
= Shortest distance is 47 mins (depending on traffic)
As you can see Hilton Head Island, South Carolina is less than an hour away like Brighton Beach from Savannah, Georgia.
We put together the 10 best beaches in Hilton Head Island, South Carolina worth visiting if you're in the area.
There is a Savannah/Hilton Head International Airport and a few airlines fly at this airport:
American
Delta
Southwest
JetBlue
Most flights seem to operate from the East Coast, so if you live around these areas then you might be able to fly directly into Savannah, Georgia.
If you don't live on the East Coast you can still get around by flying into Hartsfield – Jackson Atlanta International Airport.
Then from there book a direct non-stop flight into Savannah, Georgia on Delta.
Which offers several non-stop flights into Savannah, Georgia.
What Is The Prettiest Beach In South Carolina?
There are many different beautiful beaches in Georgia and South Carolina.
South Carolina's coastline carries over 2,876 miles of tidal coastline.
Though the prettiest will come down to individuality preference the following make our top prettiest beaches in South Carolina:
Folly Beach
Edisto Beach
Isle of Palms
Does Georgia Have Any Good Beaches?
Georgia boasts some of America's best beaches.
Nearly 100 miles of soft white sand cover its Atlantic Ocean shoreline while other pristine strands flank the state's sparkling lakes.
This includes:
Tybee Island
Jekyll Island
St. Simons Island
Are there any restrictions or regulations to be aware of at these beaches?
Yes, there may be restrictions or regulations to be aware of at the beaches in Georgia and South Carolina.
These can vary depending on the specific beach and local authorities.
Common restrictions may include rules on alcohol consumption, bonfires, pets, camping, and fishing.
It is important to check with the beach authorities or visit their official websites for up-to-date information on any specific regulations or restrictions that may be in place to ensure a pleasant and safe beach experience.
Are there lifeguards present at the beaches?
Yes, many beaches in Georgia and South Carolina have lifeguards present.
However, the availability of lifeguards can vary depending on the beach and the time of year.
Some popular and well-maintained beaches often have lifeguards stationed during peak seasons and designated hours.
It is advisable to check with the beach authorities or visit their official websites for information on lifeguard availability and specific beach safety measures.
Additionally, it is always important to exercise caution and adhere to safety guidelines, regardless of lifeguard presence.
Conclusion
There are plenty of beautiful beaches in Georgia and South Carolina that you must see in your lifetime!
Whether you're looking for a quiet, secluded beach like Little St. Simons Island, Georgia to relax on or one with all the amenities and activities like Myrtle Beach, South Carolina.
Though there are many different beaches in Georgia and South Carolina worth mentioning.
These 14 are our top must-see beaches to visit!
So, how about you?
Have you ever visited any of the above-mentioned beaches before?
And if so what are some of your favorite beaches in Georgia and South Carolina you enjoy seeing?
Let us know in the comment section below.
Safe beach travels! 
OTHER RECOMMENDED BLOGS: