La Jolla Shores Beach…Everyone has heard of this beach sometime in their life.
Especially if you are a local San Diego resident.
You are forgiven if you're a tourist.
But if you do land in San Diego, you will most likely see advertising for this beach somewhere.
Besides the point, La Jolla Shores Beach is considered one of the most unique beaches in all of San Diego County. Don't get me wrong, there are plenty of beautiful beaches all over San Diego County to check out. 

Yet, La Jolla Shores is definitely well KNOWN in San Diego. Not only is it gorgeous and very popular among many people, but even sea lions are famous for basking in the sun here!
Heck if you're lucky, you may see some celebrities around this beach.
If you're anything like me, you may not even notice that someone is a celebrity until people will point it out. 

This beach, like many of the other gorgeous beaches around San Diego County, has a lot to offer for the single-family or lonesome beach traveler.
Read on as we break down all the fun things you can find to do here. 

But do not forget to keep your beaches cleaner than how you found them.
Trash is definitely becoming a problem at many local beaches!
Where is La Jolla Shores Beach

This will most likely apply to tourists who have never come to the beaches of La Jolla Shores. After all, San Diego is famous for its captivating beaches both in the North County and South. Take a good vacation break and experience some sand, sun, and waves.  
Lucky for you, La Jolla Beach is found very close to the downtown area of San Diego.
After exploring the gorgeous beaches of La Jolla, make your drive to the downtown area of San Diego to explore more of what this city offers. 

Distance-wise, La Jolla Beach is found so close to the San Diego International Airport, or say the area of downtown San Diego.
Driving Distance: Approximately 13 miles in distance and give or take about 24 minutes in the car. So expect it to take some time if your driving. Depending on what hour of the day you get there, it all varies.

It is definitely doable in a day.
What to expect when visiting La Jolla Shores

This beach is just one of my favorite beaches to visit in almost all of SD County.
Well, to be honest, it is probably a favorite for many people.
Not just me.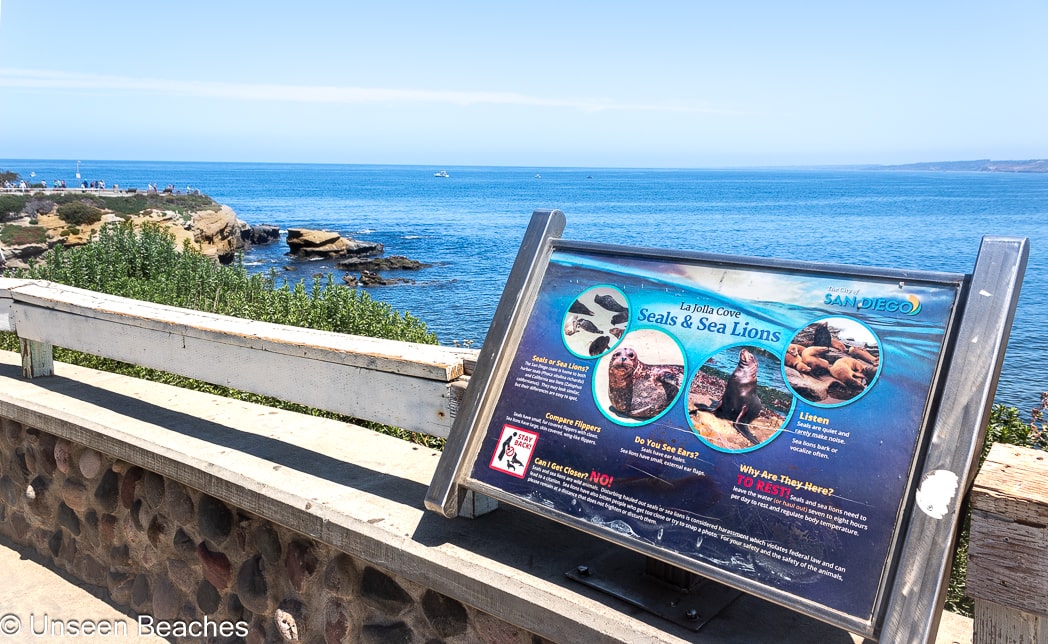 If you are a family, then this is also one of the many family-friendly beaches of San Diego. There really are a lot more people here due to its popularity.
And don't get me started on how crazy busy it could get in the summer!
Especially during those holidays such as memorial day, fourth of July, and Labor Day! 

If you are going to the beach on these days, be prepared for the crowds that await. 
Some tips to remember if you're visiting this beach:
Arrive early, parking can be limited as you try and battle your way for a parking spot. Trust me, nobody wants the stress of having to walk miles with their beach stuff
Be prepared to pay some parking meters at the beach; this is much cheaper than getting a parking ticket (trust me: those beach police have no mercy)
Stay for the sunset; some of the most beautiful pictures are taken at sunset
Dress in layers; I've been here where the beach has been so cold, I forget that the San Diego weather can play some tricks on you
Bring extra clothes; you never know if you may need an extra pair if you do get wet
Bring your camera; (your phone will do too) There are some cute sea lions awaiting your presence
Bring an extra battery-powered charger; my phone always dies; I learned this one the hard way
Things to see up in or around La Jolla Shores Beach

La Jolla Cove
Yes, this has been one of the most popular things to see. It is pretty much a beautiful sight of sea cliffs and crowds of sea lions and seals. It has become one of the must-see places of La Jolla Shores Beach!
I mean who wouldn't want to see these little guys in action? So definitely plan on bringing your camera.
La Jolla Cove Snorkeling
You do not have to venture too far, since snorkeling in the La Jolla Cove is where it all happens. This activity is probably one of the most popular activities in all of La Jolla.

La Jolla Cove snorkeling is an ecological reserve. La Jolla Cove's underwater area has many different species you can encounter when diving. You can see anything from barracuda, giant sea bass, seals, and bait fish.

It really is an experience all in itself.

If you are looking for activities then this is definitely one of the ones you should opt for.

If you do plan on snorkeling just keep in mind that the water temperatures can fluctuate. It can be cold so be prepared to either buy or rent a wetsuit ahead of time.

There are three areas to snorkel here
The cove is where you will see a lot more people: it is the main area of the cove.

The south of the cove is another area along the caves.

The nice thing is that you can find lifeguards a-galore, and your best bet is to find them at the cove.

La Jolla Shores Park

This grassy field brings a lot more crowds than you would think. I have seen gymnasts, acrobats, children, and families playing on this grassy field more than I can imagine. In fact, if you like people-watching, then this is your place.

You will see everything entertaining here. It is the best place to practice some yoga, read a book, bring a picnic, or just relax. The place is really a gem and it has definitely become very popular with many people.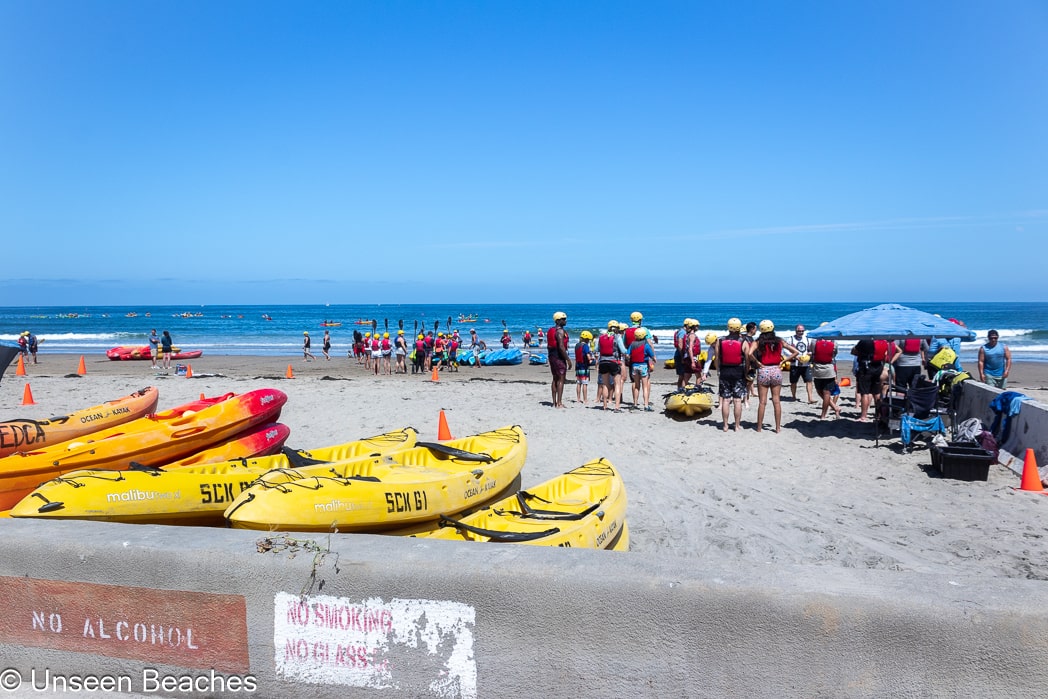 Parking in or around La Jolla Shores

Parking in or around La Jolla Shores can be frustrating if and only if you do not arrive on time. It is definitely recommended that you arrive on time to get the best parking spots.
Trust me, you do not need the stress of finding parking.

Street parking is very limited and if you are lucky you may find some on the street. Yet it is sometimes a two-hour street parking. If you want to just pay for the day then parking meters are probably your best option. But even these can get packed! Especially in summer!

Shopping around La Jolla Shores
La Jolla Shores is very popular since there is a shopping village! Just like Carlsbad Village, La Jolla Shores offers plenty of shopping within walking distance from the shore.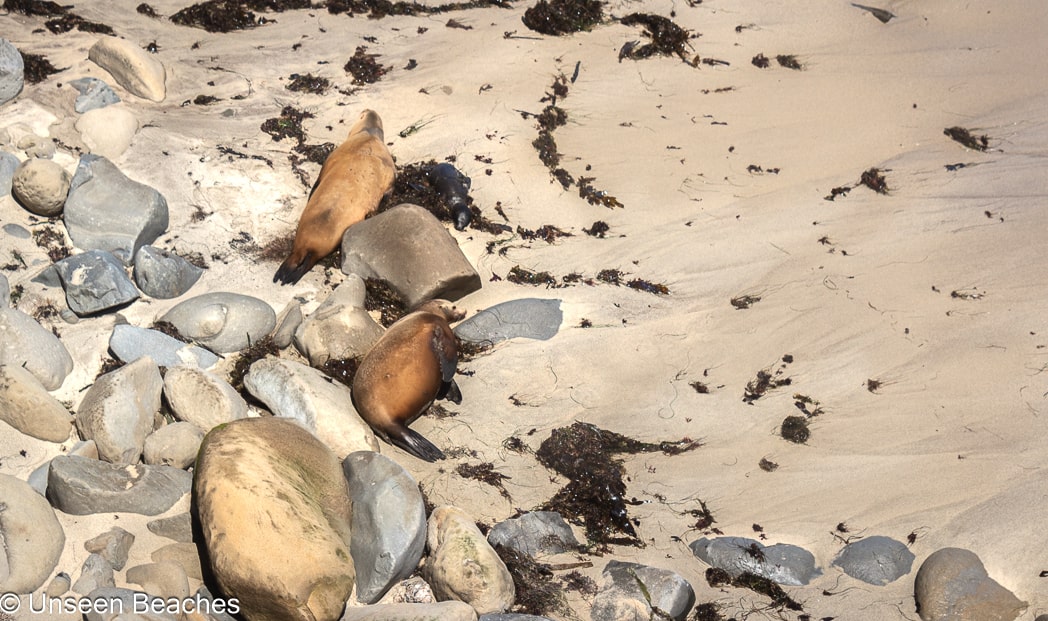 Places to stay in or around La Jolla Beach
There are plenty and I mean plenty of places in or around La Jolla.
Some hotels are conveniently situated within walking distance of the beach. Of course, those are probably the more pricer ones.

There are other hotels located a bit further away, but these would probably be the more budget-friendly ones.

For those also looking for budget-friendly options, then do not forget that Airbnb is also very popular around there.
Conclusion
La Jolla Shores beach has a taste of San Diego paradise for everyone. From the single budget traveler to the large family planned vacation. There really is so much you can do and see.

If you plan on spending a day here, then be sure to check out things like La Jolla Cove! This amazing place features anything from cool-looking caves to fun snorkeling in an ecological reserve.

Not to mention, you can do activities like kayaking and surfing. Yes, you can take surf lessons here!

If you are wondering about other amazing family beaches to check out then read this article here as we break down another family-friendly beach.

As far as dogs go, dogs are not allowed on the water. Read this article about where you can find the best dog beaches in San Diego County. 

La Jolla Shores Beach can be unique and gorgeous as it is crowded. It is no wonder people flock here to enjoy the sun, sand, and waves. Just remember, pollution is on the rise in beautiful beaches. Do your part and clean up after yourself. Avoid using plastic. 

Read more about what you can do to make a difference. 

So tell me what do you enjoy about La Jolla Beach Shores?