Swami's Beach is located in Encinitas, California, and is a popular destination amongst locals and tourists alike.
We've compiled a list of 12 things I wish I would have known to prepare myself for this trip, but we compiled it here for you.
If you ever do decide to visit this place, let's get started!
Overview:
12 Things to Know about Swami's Beach
Swami's Beach is one of 9 beaches found in Encinitas below is a list of things to keep in mind before your visit:
1. The word "Swami" has origins in India
In Hindi (which is one of several different languages spoken in India) swami means "master" or "lord."
It is known to be a title of respect often used when addressing religious leaders or teachers.
This brings us to our next point…
2. Beach named after Paramahansa Yogananda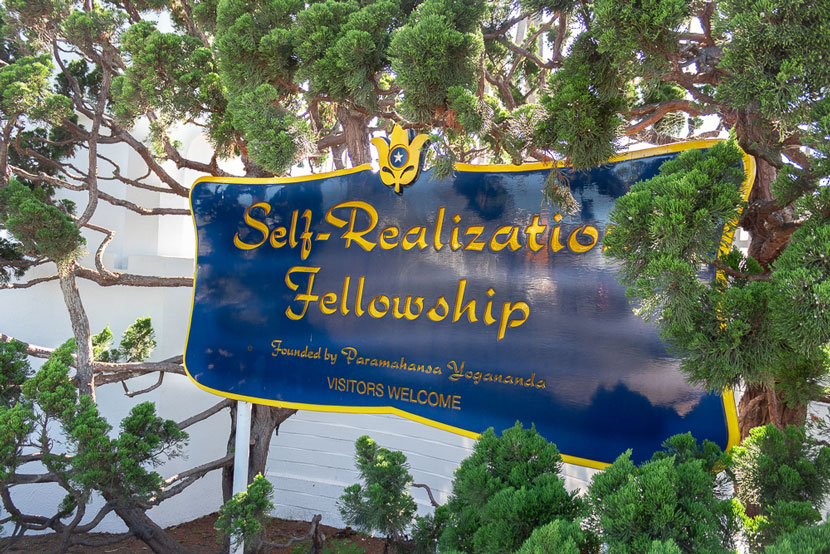 Swami's Beach was named after Swami Paramahansa Yogananda.
Paramahansa was known to be the first Indian Hindu teacher to come to the United States of America and he established several Self-Realization Fellowships throughout the United States.
These temples were built for the purpose of providing a place for people to study and practice meditation.
And the temple Self-Realization Fellowship Encinitas Temple is found right above Swami's Beach!
Hence, the influence of this beach is named after him.
3. Lifeguards – Limited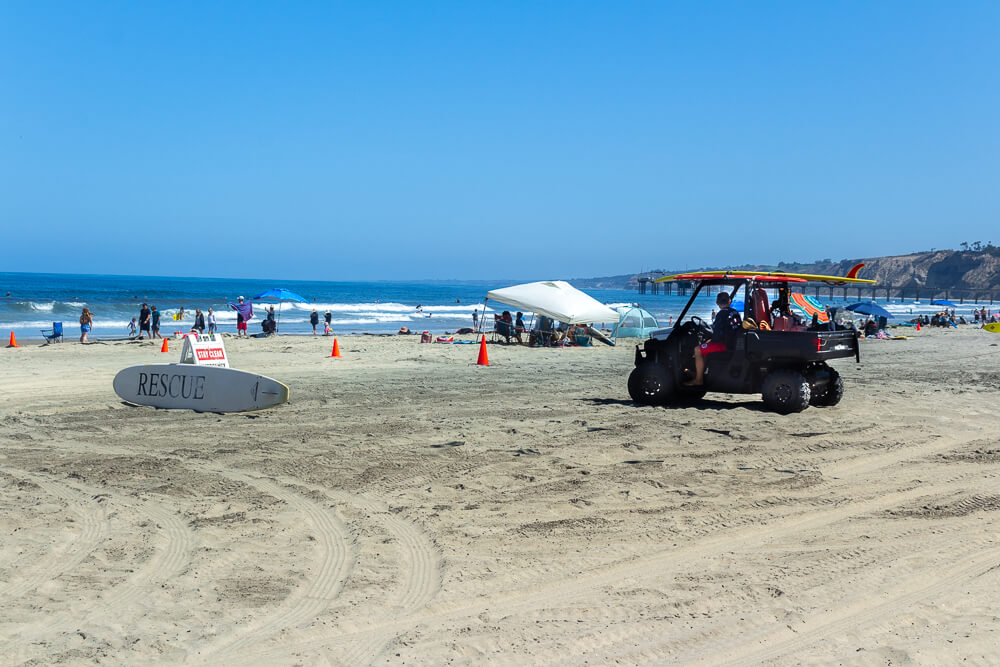 There is one lifeguard tower here.
You have to go down the stairs to get to the beach to see it.
These lifeguards aren't present 24/7.
I got the opportunity to talk to one who stated they are only present during the weekends, but in the summertime, they are more present at the beach.
So, if you are visiting on the weekdays, take caution be aware of your surroundings, and don't swim alone.
4. Not Accessible for those who use Wheelchairs
If you require a wheelchair to get around understand that this beach does a disservice to those who use wheelchairs.
There are a lot of stairs (over 80 steps) leading down to Swami's Beach just like Stonesteps Beach.
However, none of these beaches offer boardwalks, ramps, or elevators to help get down to the beach.
I wish more beaches were more accessible to get to, but there are not many here in Encinitas.
With the exception of Cardiff by the Sea and Moonlight State Beach.
In addition, those having strollers or planning to bring beach wagons understand that it might be difficult to wheel these items down.
5. Restrooms
There are a few restrooms located at Swami's Beach.
There are both men's and women's restrooms here.
However, the only restrooms found here are at the top of the beach.
Before you go down to the beach. Once you get down to the beach there are no restrooms here nor portable restrooms.
And if you got to go really bad remember you got to climb back up the stairs to get to the top to use the restrooms.
6. One Entrance at Swami's Beach
There is only one entrance to get into Swami's Beach.
And it's located between two pillars that have golden circles on them.
This leads you down a stairway that has lots and lots of steps. Let me repeat, lots of steps!
There are over 80 steps to get down here to Swami's Beach.
You'll notice the locals going down and up the steps here.
So, if you're not in shape be prepared to have your feet and legs get a burning workout.
But, do take your time!
7. Not Dog-Friendly
Unfortunately, if you're thinking of bringing your four-legged friend with you on this beach know that dogs aren't allowed here.
Unless that is it's a service animal.
There are a few beaches in Encinitas that allow dogs such as San Elijo State Beach or Cardiff by the Sea.
8. Camping not allowed at Swami's Beach
For those camping lovers thinking you can camp at this beach hate to break it to you, but you can't camp here.
The only place you can camp is at San Elijo State Beach Campground which is a few minutes away from Swami's Beach.
You will need to make a reservation way in advance if you're planning to camp here during the summer as this is a very popular spot for campers.
9. No Volleyball Courts/Fire Pits/Concession Stands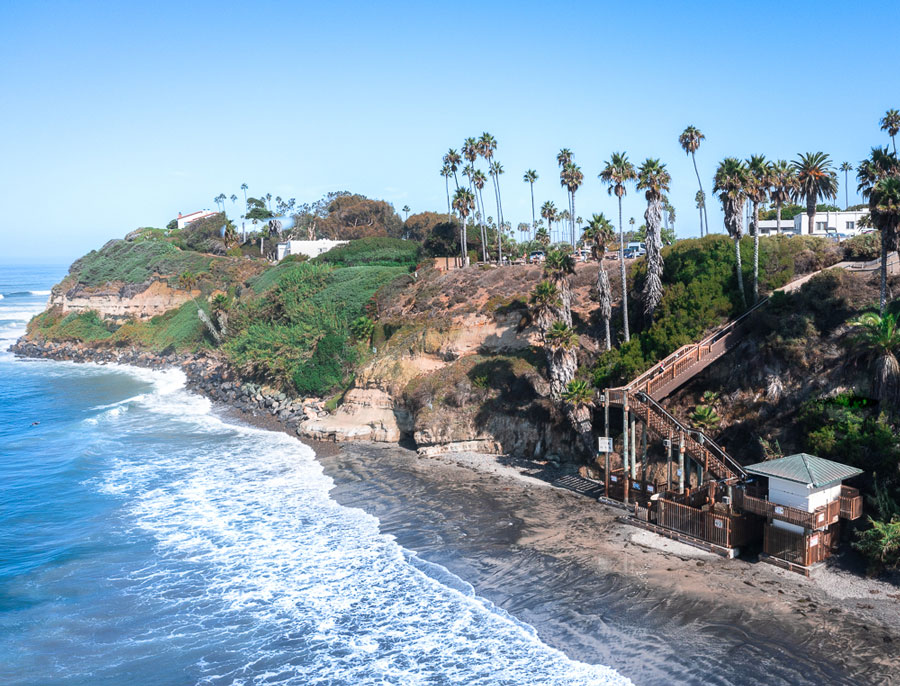 If you're visiting Swami's Beach for the first time know that this beach doesn't offer many amenities.
You won't find any volleyball courts, fire pits, or even concession stands.
So, if you're planning on spending the day here make sure to pack everything you need such as food, drinks, sunscreen, and chairs.
10. One Shower at Swami's Beach
You can find one shower down here on Swami's Beach.
Unlike, Stonesteps Beach, there's one!
It is located under the wooden stairs.
The only downfall to this is you have to wait in line since there's only one.
During summertime and weekends, you can spot a long line forming to use the shower.
11. Picnic Tables at Swami's Beach
As you pull into the parking lot of Swami's Beach you can spot a few picnic tables.
These are found at the top of the beach.
Perfect for a picnic!
However, they are first come first serve so make sure to arrive early to snag a table.
12. Type of People You'll Encounter: Surfers
There are a lot of locals that come to this beach.
And during summertime, you can expect to see a lot of tourists as well.
However, nothing compares to the number of surfers you will see at this beach.
It seems to be a go-to destination for surfers all around the world.
Just like Leucadia (Beacon's) Beach you mostly can spot them out in groups waiting for the next wave to catch.
Swami's Beach Parking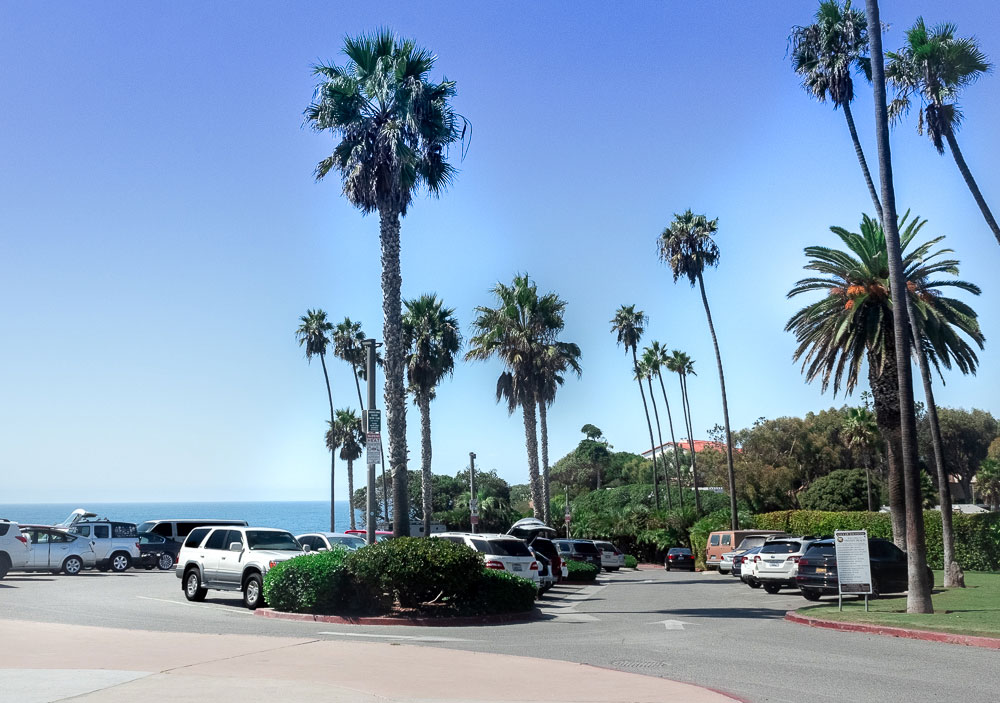 For those wondering how Swami's Beach parking is know that you have several options to choose from.
Swami's Beach has a parking lot that is free.
The downfall of this is that the parking lot is small.
There are less than 60 parking spots here.
I counted around 53 parking spots, but let's just say it's less than 60 (as of 2022).
If you happen to come and find this parking lot is full you have another option and that's street parking.
Street parking is found along the Coast Highway.
The only thing I suggest is to be careful when parking on the street.
Cars are driving down the Coast Highway at highway speed.
You'll see many people park here during the summers so do come early!
Swami's Beach Tide Pools
Swami's Beach offers some tide pools that are usually visible when the tide is low.
These tide pools have different types of creatures living in them.
Sea anemones, crabs, sponges, and urchins are just some of the things you can find in these tide pools.
The best time to visit the tide pools is on a weekday since they tend to get crowded on weekends.
I suggest coming in the morning or afternoon as the tide is usually low during these times.
If you have never seen a tide pool before and are curious about what they are, they are basically pools of water that are created when the waves crash into the rocks.
These pools are home to different types of sea creatures.
Understand that it's best to not pick up any of the creatures or step on them.
Leave these creatures alone and be respectful of their home.
F.A.Q.s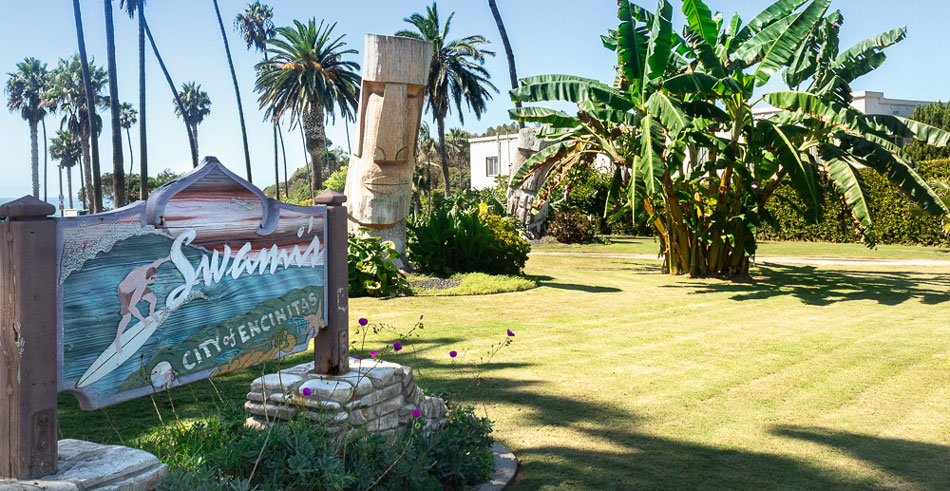 Why is it called Swami's Beach?
Swami's Beach as previously mentioned is named after the Indian Hindu teacher named Paramahansa Yogananda.
He is the author of the book "Autobiography of a Yogi."
He taught meditation and established several Self-Realization Fellowships throughout the United States during the early 1900s.
One of these temples was built right above Swami's Beach in Encinitas!
Is Swami's Beach Dog Friendly?
Unfortunately, no dogs are allowed on Swami's Beach.
Can you Swim at Swami Beach?
Yes, you can swim at Swami's Beach.
There are even lifeguards on duty during the summer months.
So you can rest assured knowing that there are people looking out for swimmers.
Conclusion
So, there you have it.
If you're planning on visiting Swami's Beach anytime soon I hope this guide was helpful.
Swami's Beach is a beautiful beach located in Encinitas, California.
It's perfect for swimming, surfing, picnicking, and relaxing.
Just remember to come early if you're planning on parking in the lot since it's small and it does fill up quickly!
Let us know in the comments below if you've ever been to Swami's Beach or any other questions you have about this place.
Until next time, safe beach travels!
OTHER AWESOME BLOGS: