Ahh…a minimalist beach packing list…
Oftentimes, we want to pack light and simple and perhaps a bit more like a minimalist. I get it, some people would rather go to the beach with just a beach towel! That's amazing!
While others would rather carry a whole lot more. I sometimes find myself doing both. Some days you want to pack light, and other days you want to bring just a little bit more.
Of course, minimalism means something different to everyone.
Try new things and see what works. This is something you may want to try and then adjust to your OWN personal preferences.
In addition, this guide is more than a beach towel and a couple of essentials for those on the go!
Forget carrying so much and forget the beach wagon, this is what I take when I want a sweet simple beach trip for a couple of hours. Read on.
What's Essential for a Minimalist Beach Vacation?
Beach Blanket
Beach Umbrella
Beach Cooler 
Your Essentials (sunscreen, sunglasses, hat)
Your Favorite Book
Finding the essential beach packing items to the beach can be tricky. Yes, you probably can bring just yourself and nothing else. That would be a minimalist approach. 
However, I find that if I bring just a couple of essential things with me, it makes all the difference. At the same, I make sure not to overload those simple days.
What to Bring for a Weekend Beach Trip
Going on a weekend beach trip is a lot easier to pack than going for a week-long vacation. Going on that weekend beach trip is often only 1-2 days and involves a lighter load.
Here is a list to guide you on what to bring on a weekend beach trip as a minimalist.
Remember to think about your essentials: Food, Shelter, Warmth.
Quick simple list of what to pack for the weekend beach trip
Food: You can't live without water or food, well food maybe, but we're not talking man vs wild here. Bring enough food to cover you for the weekend beach trip. I find that packing wholesome foods is your best bet to keep you feeling full longer.
Water: It is a must! By bringing a larger reusable water bottle or gallon you can make sure that it will last you throughout the day. 
Shelter: Beach umbrella for protection; this will help protect you from those harsh sun rays. Some beaches rent beach umbrellas.
Beach Blanket: Also considered shelter in a way, it protects you from the sand.
Your Essentials (i.e your sunscreen, sunglasses, and hat); if you're by yourself then maybe a nice book to read may do…if you have kids then maybe their favorite toy, but you don't have to overdo it.
You will be surprised how kids can be entertained with a bucket and a small shovel!
How to pack for your Minimalist Vacation to the Beach
Packing like a minimalist for a week or even shorter requires just a bit of flexibility and thinking. One of the things we often think about when we pack is how much to bring and why.
We sometimes think we need a lot more things but in reality, we only need the basic essentials in order to survive.
As a quick story, I once studied abroad in Spain in my undergrad years and all I took with me for one semester was 1 suitcase the size of a carry-on. Even though I knew this was not enough, I learned how to make it work.
My traveling friend, on the other hand, brought a large overstuffed suitcase with different shoes and it was a struggle traveling through the subway and train areas. After learning that some European countries do not have elevators made it that much harder to lug up the stairs. 
All in all, I have learned to travel light and the beach is no exception. Although sometimes, depending on the occasion I will bring more if I feel like I need too.
However, I always remind myself to pack lighter. It is the way to go. Here's a checklist of what you can bring for your minimalist vacation. 
Here is a Quick Breakdown
The Minimalist Beach Packing List (keep in mind that you can adjust to your own setting)
1 beach umbrella (FYI: You can also rent these in most beaches if you are traveling out of state)
1 beach chair (optional: You can also rent these on some beaches if you are traveling out of state)
1 beach towel
1 beach blanket (Recommend this one)
1-2 change of clothes (evening clothes)
2 pairs of shoes (beach flip flops and walking shoes)
Your Essentials
Food & Snacks
Conclusion
I have seen people at the beach who carry loads and loads of stuff with them. That is fine, but it does look like a struggle to see.
Oftentimes I see them dragging their beach wagon across the sand. I have also seen those with just a beach towel and backpack.
While everyone is different when it comes to traveling to the beach, we can all definitely spend the time to think and lessen the load to what we bring.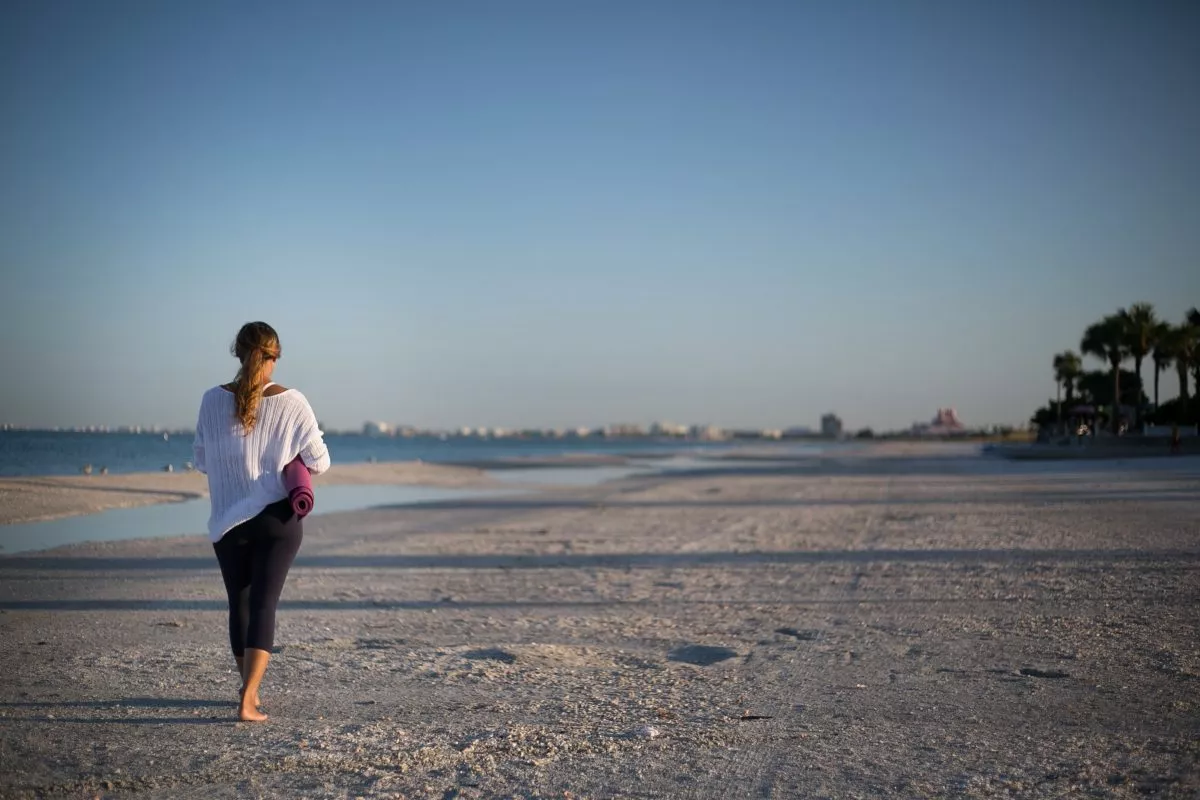 There are days when I do pack more, especially when I have family or friends visiting.
There are other days when I hardly pack anything and sometimes it feels so much more liberating.
I have seen both at the beach and frankly, I have been both at the beach.
Hey, you probably have been both too. Whether you are looking to travel lighter or just wondering what you can do to lessen the load then you are in the right place.
Keep in mind that a minimalist beach packing list could mean something different for every person out there. See what works for you personally.
Every beach trip is a chance you can take to challenge yourself on the things you need that are essential. It really is up to you.
Make the change and try the minimalist list to the beach and see what you can do to add or take out. What is essential to you may not be essential for someone else. 
Good luck out there!