Monterey Bay Beach is a beautiful place to visit for anyone who loves the outdoors.
Located on Monterey Bay, this beach offers visitors access to the famous Pacific Grove Aquarium and more than 50 miles of hiking trails.
Visitors can enjoy surfing, kayaking, or just spending time with family and friends.
If you are looking for an escape from everyday life, head out to Monterey Bay Beach!
Overview
Everything you need to know about Monterey Bay
The History
Monterey Bay was first populated by the Ohlone people, who arrived in the area around 3000 BC.
The Spanish missionaries arrived in 1770 and established a mission there.
They also began to exploit the natural resources of the area, including its forests and fisheries.
After California became a state in 1850, Monterey Bay grew into a center for shipping.
Today, Monterey Bay is a popular tourist destination, with many things to see and do.
The bay also attracts marine biologists from around the world who study its unique ecosystem.
What to expect
Majestic Natural Beauty: Monterey Beach boasts a rugged and awe-inspiring natural beauty that is simply breathtaking. With its dramatic cliffs, pristine sandy shores, and sparkling blue waters, it provides a picturesque backdrop for unforgettable adventures. Whether you're an avid photographer or simply a nature enthusiast, you'll find yourself immersed in the captivating scenery at every turn.
The Famous Monterey Bay Aquarium: One of Monterey Beach's most renowned attractions is the world-famous Monterey Bay Aquarium. Home to a diverse array of marine life, including playful sea otters, magnificent jellyfish, and majestic sea turtles, the aquarium offers an unparalleled opportunity to explore the wonders of the ocean. From interactive exhibits to captivating shows, it's an educational and entertaining experience for visitors of all ages.
Historic Cannery Row: Adjacent to Monterey Beach, you'll find the historic Cannery Row, a waterfront district that was once bustling with sardine canning factories. Today, it has transformed into a vibrant hub of shops, restaurants, and art galleries. Immerse yourself in the colorful history of the area as you stroll along the lively streets, sample delicious seafood, and browse unique boutiques.
Whale Watching Extravaganza: Monterey Beach is renowned as a prime whale-watching destination, offering a front-row seat to witness these magnificent creatures in their natural habitat. Hop on a whale-watching tour and prepare to be amazed as you spot majestic humpback whales, orcas, and dolphins frolicking in the ocean. It's an awe-inspiring experience that will leave you with lifelong memories.
Del Monte Beach and Lover's Point Park: If you're seeking a more relaxed beach experience, head to Del Monte Beach and Lover's Point Park. Del Monte Beach offers a serene and tranquil setting, perfect for leisurely walks, picnics, and contemplation. Lover's Point Park, on the other hand, features stunning coastal views, inviting picnic areas, and even a charming sandy cove for swimming and sunbathing.
Historic Monterey: Step back in time as you explore the historic heart of Monterey, a city with deep Spanish and Mexican influences. Delve into the past at the Monterey State Historic Park, visit the enchanting adobe buildings of Old Monterey, or embark on a walking tour to discover the city's rich cultural heritage. From the historic Custom House to the iconic Monterey Cathedral, there's no shortage of fascinating landmarks to explore.
Outdoor Adventures Galore: For those seeking outdoor adventures, Monterey Beach has plenty to offer. Embark on a kayaking expedition along the coast, rent bicycles and explore the scenic Monterey Bay Coastal Recreation Trail, or hike along the rugged trails of nearby Point Lobos State Natural Reserve. The options are endless for those eager to embrace the region's natural wonders.
Best Time To Visit
The best time to visit Monterey Bay is from late spring to early fall.
The weather is usually mild and sunny, and there are plenty of things to do. However, be prepared for crowds during the summer months.
Monterey Bay is home to a wide variety of marine life, including sea otters, seals, and sea lions.
Whales can often be seen in the bay during migration seasons, including gray whales migrating between Alaska and Mexico from December through May.
If you want to learn how to plan your vacation, then we are sure to check out this blog where we help you start planning from scratch!
How to Fly into
There are three airports near Monterey Bay: San Jose International Airport (SJC), San Francisco International Airport (SFO), and Oakland International Airport (OAK).
All are about an hour's drive from Monterey.
Once you're in the area, getting to the beach is easy. Just take Highway 101 south and follow the signs to the beaches.
Monterey Bay offers a wide variety of activities for nature lovers.
If you prefer to drive up to Monterey with the amazing Pacific Coast Highway Roadtrip I recommend here, then by all means this is a great way to get to know California.
I have done this road trip a couple of times and every time I fall more and more in love with California.
With the majestic mountains on the right and gorgeous beaches on the left, this is one of the best ways to get here.
If you want to learn more then be sure to check out the Pacific Coast Highway Roadtrip and add that to your bucket list.
How To Get Around
The easiest way to get around Monterey Bay is by car. Several scenic routes wind through the bay, and there is plenty of parking available.
However, be prepared for traffic during the summer months.
I highly recommend comparing prices from DiscoverCars as well as big travel companies such as Orbitz and Expedia!
You can check out car deals there and see which one will be worth it.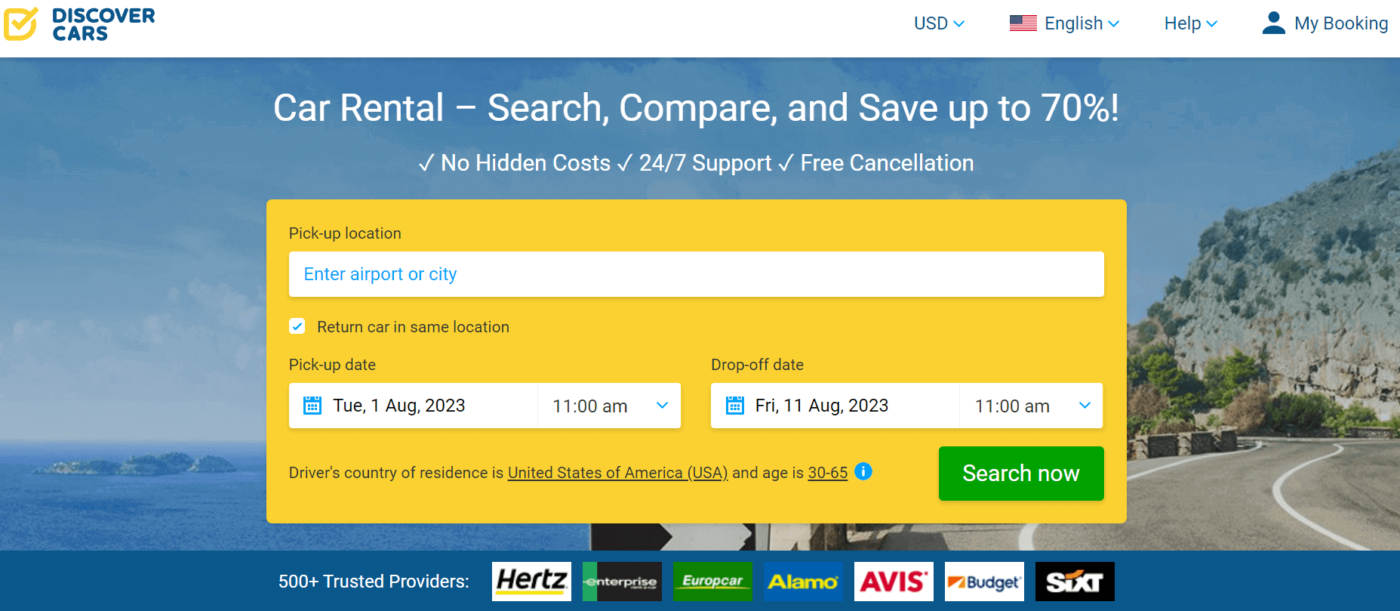 I have done this on multiple occasions and everything I am satisfied with the services.
I do recommend that you do book in advance because the summer months DO get busy!
Top Things To Do
There's plenty to see and do in Monterey Bay. Here are some of our favorites.
Monterey Bay Aquarium
The aquarium, which houses over 350 different species of marine life, is a must-see for both adults and children alike.
You can see penguins, sea otters, sharks, and many other creatures that inhabit Monterey Bay. The aquarium is open daily from ten am to five pm.
Monterey State Beach
This state park features a sandy beach with picnic tables and restrooms. It's a great place to take in the sunset! There are also several hiking trails in the park.
Pacific Grove
This charming town is located on the bay and is home to a variety of shops, restaurants, and art galleries. It's also known for its Victorian architecture.
Carmel-by-the-Sea
This upscale town is famous for its high-end boutiques and restaurants. It's also home to the Pebble Beach Golf Course.
Big Sur
This stunning stretch of coastline is a must-see for anyone visiting the area. It's home to rugged cliffs, rolling hills, and forests. This is one I highly recommend when road-tripping the Pacific Coast Highway.
Monterrey Bays Fisherman's Wharf
This wharf is a great place to buy fresh seafood or watch the fishermen unload their catch. It's also home to a variety of restaurants and shops. In addition, you do whale watching, fishing, sailing, observing sea lions, and even checking out a live theater! You can find out more here. Every time I go I make the stop here!
Where to Eat
There are several fantastic restaurants in Monterey Bay, which is a perfect destination to eat.
From fresh seafood sources on the bay to Mexican and Italian eateries, you'll discover something for everyone.
A good place to check out if you are in the area is Fishermans Wharf, there are a lot of delicious seafood restaurants to choose from and a lot of cute shops.
If you're looking to eat you can visit The Grotto's Fish Market, Crab Jimmy's, Rockfish Harbor Grill, the Crab House, and more!
There is everything from seafood to Italian, Mexican, and more! Definitely plan something there!
Where to Stay
There is no shortage of places to stay in Monterey Bay, from camping and RV parks to luxury resorts.
If you're looking for a place right on the beach, the options are a little more limited, but there are still some great choices available.
The Best Western Plus Carmel Bay View Inn is one option that offers ocean views from every room.
It's also located right on the beach, so you can relax by watching waves crash against cliffs as they have for centuries before us or go swimming in one of many nearby pools that are open all year round!
You can even check out Orbitz where you can find great deals on beach hotels right on the beachfront!
I usually will book something on there since you can easily compare different hotels.
In addition, I have also used Expedia for great beach hotel offers since they have a surplus of hotels to choose from.
You will not be disappointed.
the Best Beaches Of Monterey Bay
Monterey Bay is an oceanic bay located on the Central Coast of California.
The bay is south of San Francisco and north of Big Sur.
And it's about 276 miles long and between two to 15 miles wide, with a maximum depth of more than 6000 feet.
It covers approximately 600 square mile area.
So there is a lot of beach you can cover.
Even if you just plan on walking the beaches or swimming or even taking some time to explore a couple of the most popular beaches there is something for everybody!
The beaches at Monterey Bay create an ideal spot for nature lovers to explore and enjoy all that the bay has to offer.
Some of the most popular beaches in Monterey Bay include Asilomar State Beach, Lovers Point Park, McAbee Beach, and Cannery Row.
Asilomar State Beach
A beautiful oceanfront state park located between Pacific Grove and Carmel-by-the-Sea.
The park offers stunning views of the Pacific Ocean and features a wide variety of outdoor activities, including swimming, surfing, fishing, and kayaking.
Also, this is a pet-friendly beach, so if you would like to bring your pup along then by all means do!
Lovers Point Park
is a popular spot for locals and visitors in Monterey Bay.
It's located in downtown Pacific Grove and offers panoramic views of the bay and the Pacific Ocean.
A park is a great place for swimming, sunbathing, fishing, and whale watching.
McAbee Beach
McAbee Beach, which is located in the middle of Cannery Row and has just under one-quarter of an acre, is Monterey's tiniest beach.
However, it may have the most visitors per inch! Kayakers launch from it, scuba divers sometimes wade ashore at it, and families love this beach since they are found playing on it.
Monterey State Beach
The newly opened Window on the Bay Park frames Monterey's most popular beach, Monterey State Beach, which runs from Wharf #2 to Seaside.
The sand is softly shelving into the bay, making this one of the safest beaches for paddling with toddlers.
The beach is open from dawn until sunset; there is accessible sand all along.
You can find everything from kayak, canoe, bicycle rents, and even snack bars and restaurants near the Monterey Bay Waterfront Park.
In addition, Monterey State Beach has a lot of activities for children such as volleyball courts, picnic tables, and even barbecue pits.
You can even catch a recreational trail.
Carmel Beach
If you are a bird watcher then this beach is for you.
It is perfect for those avid bird watchers who want the beach and nature.
If you do have a pup there is the area that allows dogs here too.
There are a lot more beaches to check and this is just the tip of the iceberg.
If you want to learn about other beaches then visit here for more.
3-day itinerary
Day 1:
Start your day at the Monterey Bay Aquarium. Visit their website for hours and ticket prices, as well as to plan out what exhibits you want to see first.
Then head over to Fisherman's Wharf for lunch at any of their restaurants. They offer a variety of food such as Mexican, Italian, and of course, seafood!
After lunch, walk around the wharf and check out the shops and vendors. End your day with a sunset stroll on Lovers Point Park beach.
Day 2:
Start your day with a visit to Asilomar State Beach. Take a walk on the beach, go for a swim, or explore the tide pools.
Then head into town for lunch at the Monterey Bay Fish Grotto or Passionfish.
Spend some time exploring the shops and galleries on Cannery Row, which is also a great spot to take sunset photos from your camera phone or DSLR.
Day 3:
Start your day with a visit to Point Lobos State Natural Reserve, one of California's most beautiful state parks.
Then head to the Pebble Beach Golf Links for a round of golf (or just a walk around if that's not your thing).
Finish your day with dinner at The Sardine Factory, located in the heart of Monterey Bay.
After dinner, take a walk along Cannery Row and enjoy the nightlife.
Tips and Tricks
If you're looking for a place to stay, check out the Monterey Bay Inn in Pacific Grove. It offers ocean views and is within walking distance of some of the best restaurants and shops on Cannery Row.
Make sure to bring sunscreen and a hat, especially if you plan on being near the water. The California sun can be strong!
If you're planning on doing any hiking, bring a water bottle and comfortable shoes. There are plenty of trails that are easy enough for anyone to enjoy (no matter their age or fitness level).
If you're interested in whale watching, check out the schedule for the Monterey Bay Whale Watch. They offer both morning and afternoon tours, and all of their guides are experienced marine biologists.
Finally, make sure to download the free Visit California app before your trip. It has everything from restaurant recommendations to maps that will help you find your way around.
If you want to check out the aquarium but don't want to spend money on tickets, go towards the end of the day. The workers at the admission desk give out a limited amount of free admission for that day.
Bring a jacket! Even in summer, it can get cold at night by the water.
Eat at the Monterey Bay Fish Grotto for some of the best food in town!
Why Visit
Monterey Bay is one of the most beautiful and diverse areas in California.
There's something for everyone here, from world-class aquariums and golf courses to stunning state parks and beaches.
You could easily spend a week or more exploring everything that this area has to offer, and you wouldn't be disappointed.
So what are you waiting for? Start planning your trip today!
Here are some more reasons why you should visit:
1. Monterey Bay Beach is the only beach in California where you can see a living kelp forest
2. Visitors to this beach will find tide pools, sea lions, and shorebirds all along the coast
3. This beach has been recognized by both National Geographic and Sunset Magazine as one of the best beaches in America
4. If you are looking for an ocean adventure or just want to relax on a beautiful sandy beach with your family, then head to Monterey Bay Beach today!
Conclusion
If you're looking for an unforgettable California coastal experience, be sure to add Monterey Bay to your list.
With its stunning ocean views, diverse wildlife, and delicious food options, there's something for everyone in this beautiful destination.
We hope our tips have helped you plan a successful trip and we can't wait to see pictures of your adventure!
Have you been to Monterey Bay? What was your favorite part?
OTHER AWESOME BLOGS