San Diego is a beach city in Southern California.
It is known for its sunny blue skies, idyllic climate, pristine beaches, and surfing opportunities.
With the vibrancy of a larger metropolis and plenty to see, it is possible to spend an entire day exploring this beautiful place.
Spanish explorers discovered San Diego in the 1700s, later used by Mexicans as a fort, and was the first American town to be visited by Europeans.
It is currently the eighth-largest city in the U.S. and has Mexican ancestry.
It is near the Mexican border, so you can see how close this city is to Mexico.
San Diego is a peaceful city that ranks 20th for safety in the U.S.
You can visit Hillcrest, a liberal and LGBT-friendly district with lots to do, such as staying in budget hostels or motels while you're there.
If you're looking for the best places to stay in San Diego, look no further!
This blog post will provide you with all the information you need to choose the right hotel for your needs.
Whether you're a visitor or a local, we've got you covered.
We'll discuss the different neighborhoods in San Diego and recommend some of our favorite hotels in each one.
Overview
The top places to stay in San Diego are:
1. Downtown
If you are looking for fun places to stay in San Diego, Downtown is an excellent choice.
There are the Victorian-era buildings and nightlife of the historic Gaslamp Quarter, the scenic roads and boutique stores of Little Italy, or the waterfront shopping opportunities of Seaport Village.
If you are coming to the city by train or plane, you have come to the perfect location.
We have nearby trolley stations to make getting around easy even when you're tired from your journey.
To the northeast of downtown is Interstate 5, which defines the border.
Balboa Park, a sizable green space to the north of that, is home to attractions including the San Diego Zoo, Natural History Museum, and Botanical Building.
Accommodation in this area of San Diego ranges from mid-range to high-end.
Where to stay:
2. Hillcrest
Hillcrest is a tolerant and liberal area in the city. Despite not having trolley stops, it is still well located and can be conveniently accessed by car.
Balboa Park is very easy to get to. Since many of the entrances are located in this district, it is convenient for people to go there and enjoy cultural exhibits and attractions – including the top-notch San Diego Zoo.
This part of San Diego is very walkable, with plenty of cafes, shops, and restaurants to explore.
There are a few hotels in the area, but hostels are great for those who want a budget-friendly stay and want to meet other travelers.
Hillcrest is famous for hosting a block party each year before the Pride march, which takes place on Saturday.
3. Old Town & Mission Valley
There are many fun places to stay in San Diego, but Old Town is a historic district that conveniently neighbors the airport. Some mid-range options in historic buildings offer great amenities and service.
This district has a trolley stop to make it easy for visitors. This district is where the city was first founded in 1769 as part of Spanish California.
Head north along the trolley track, and it will turn to the northeast.
Then you will find the Mission Valley area.
The San Diego River runs through this area, where you can find plenty of accommodation. There are also great shopping opportunities here, such as Fashion Valley or Westfield.
Where To Stay
4. Coronado
Sitting on a peninsula close to the Mexican border, Coronado is still not considered part of San Diego. It has long been known as a resort getaway and now holds the military and local residents.
Coronado offers various lodging options, including historic inns like the renowned and enormous wood-built Hotel Del Coronado (completed in 1888), RV sites further south along the peninsula, and just about everything in between.
Overnight camping by the beach can be found in the Silver Strand State Beach region, which has sandy beaches facing both the Pacific Ocean and the Bay.
Driving to Coronado is easy. You can use the Coronado Bridge or take a ferry from Fifth Avenue Landing near the downtown Gaslamp Quarter or Broadway Pier near Santa Fe Depot.
Where to stay:
5. Point Loma & Ocean Beach
Point Loma curves around from the north. Plus, Coronado protects San Diego from the Pacific Ocean and delimits San Diego Bay.
In the northern part of Point Loma, Ocean Beach is a bohemian oceanfront community where surfers enjoy the waves and sunbathers bask in the sunshine.
You will find live music at the Ocean Beach Farmers Market, which has organic produce.
If you are looking for a budget hotel, Ocean Beach has some brightly colored buildings. It also has a few waterfront villas.
Point Loma is a favorite for rock and beach lovers, with Cabrillo National Monument, its tide pools, and Sunset Cliffs National Park.
Where to stay:
6. Mission Beach
There is a lot of accommodation within different price ranges to accommodate various visitors to the city.
Lots of beach communities are surrounded by this area. It's perfect for anybody who loves the sun, sea, and sand.
A promenade links these different communities, dotted with cafes, beachside eateries, and restaurants.
It is a great location for families with kids because SeaWorld and Belmont Park are nearby.
Additionally, it is a terrific location for young individuals who like the vibrant nightlife. South Mission Beach is quieter but still has plenty of space to play on the beach.
Where to stay:
7. Pacific Beach
Pacific Beach has condos scattered along it for visitors. There are budget accommodations and luxurious resorts, too, allowing you to pick where to stay when you visit the San Diego area.
Pacific Beach is a trendy Californian neighborhood where you can enjoy shopping in boutique stores, bars with craft cocktails, practicing yoga on the beach, or simply walking along the boardwalk.
Locals refer to it as "PB," but after sunset, things start to get a little more exciting, featuring a variety of dining and entertainment options.
You can rent bikes on the coast of Pacific Beach. In North Pacific Beach, there are lifeguards and excellent kid-friendly amenities.
Where to stay:
8. La Jolla
The southwest area of La Jolla is adjacent to the Pacific Beach district and boasts a rugged coastline, sandstone canyons, and a lot of pine forest. These attributes make it great for outdoor enthusiasts.
San Diego has a place for every sort of guest and budget. The range of affordable to luxurious options is wide enough to ensure everyone has a great time.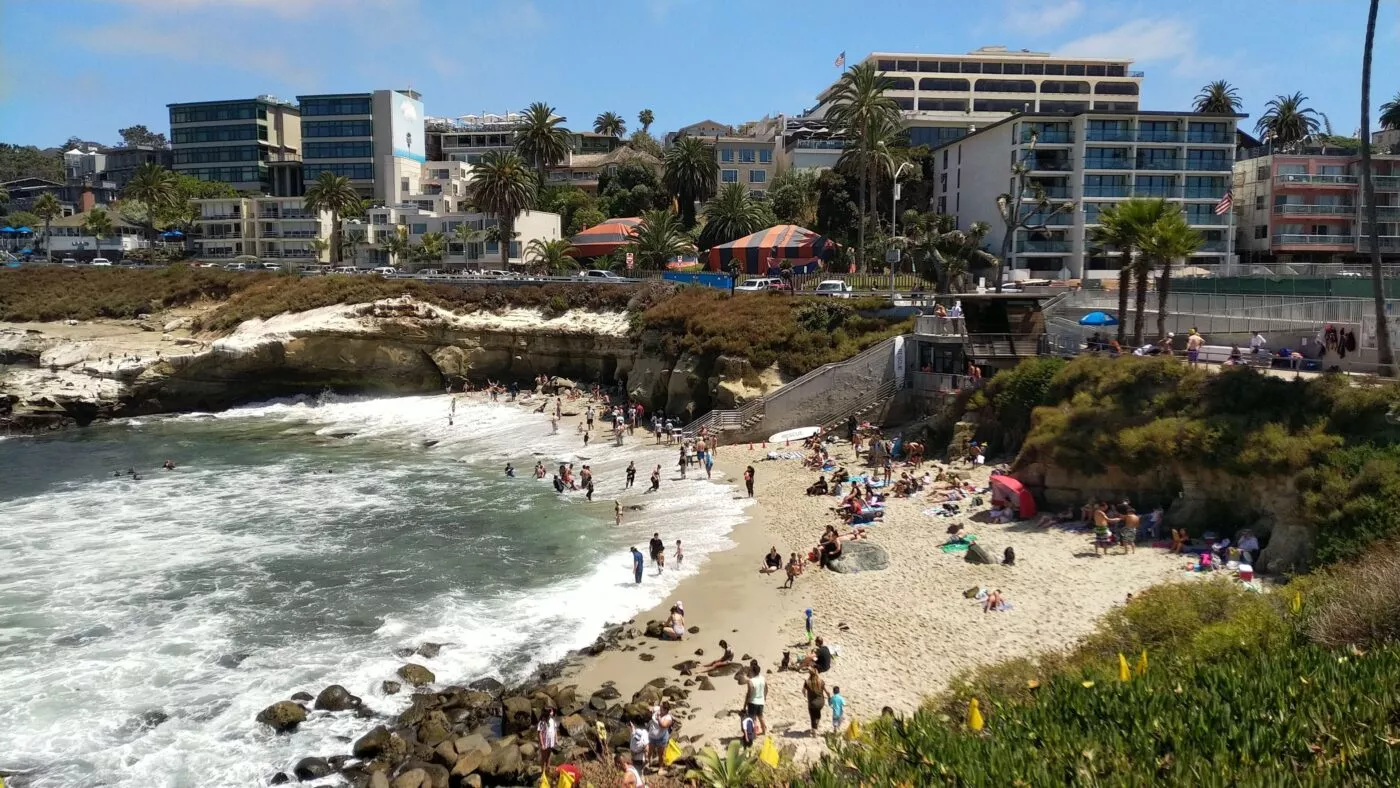 One of San Diego's most picturesque coastal towns is La Jolla, and with practically its entire coastline made up of beaches, it is hard to argue that it is not one of the top beaches in California.
Museums, chic shops, and small art galleries may be found around La Jolla for individuals who enjoy exploring.
Families should visit Scripps Park, a great place for a picnic. Alternatively, you can try to find the neighborhood seals at Children's Pool.
Where to stay:
9. Del Mar
Del Mar is the second most expensive area of San Diego. It is a quaint village with restaurants with both laid-back and elegant options, art galleries, and beautiful Pacific Ocean views.
The world-renowned Torrey Pines Golf Course is nearby, and Torrey Pines State Park offers breathtaking views and outdoor activities. Del Mar offers an ideal relaxing getaway for those who want to escape the hustle and bustle of everyday life.
Where To Stay:
10. Carlsbad
This beach community is located just north of San Diego and is famous for its flower fields, which bloom from March to May. The village has a European feel with cobblestone streets and cafes.
Carlsbad State Beach is the perfect place to surf, sunbathe, or paddleboard.
You can also explore the tide pools. Nearby Legoland is perfect for families with young kids.
Whether you want to relax on the beach, explore the city, or visit family-friendly attractions, there is a place for you in San Diego.
With its diverse range of neighborhoods and accommodations, you are sure to find the perfect place to stay during your visit.
Where To Stay:
11. Encinitas
This beach city is located just north of Carlsbad and is home to some of the best surf spots in San Diego. Swami's Beach is a popular destination for both locals and visitors.
There are also several yoga studios in Encinitas, making it the perfect place to relax and unwind. The village has a laid-back vibe with plenty of restaurants, cafes, and shops.
Where To Stay:
12. Solana Beach
This small beach town is located just north of Encinitas and is known for its relaxed atmosphere. The Cedros Design District is a great place to find unique shops and art galleries.
Families can spend the day at the beach or at one of the nearby amusement parks, such as Legoland or SeaWorld.
Where To Stay:
13. Oceanside
This community is located just north of Solana Beach and is home to a large pier and a lively harbor. The Oceanside Museum of Art features exhibitions by local artists.
You can also visit the California Surf Museum or take a scenic walk along the Oceanside Pier.
In addition, there is plenty to do and eat at the oceanside harbor! A great place to grab some food and watch the boat dock off the jetty. One of my favorite restaurants is Rockin Baja!
Where To Stay:
FAQS
Where should I stay in San Diego if I want to be near the beach?
There are several great beach communities in San Diego, such as Pacific Beach, La Jolla, and Del Mar. If you want to be near the beach, any of these neighborhoods would be a great choice.
Where should I stay in San Diego if I want to be near family-friendly attractions?
There are several family-friendly neighborhoods in San Diego, such as Carlsbad and Solana Beach. These communities offer easy access to beaches, amusement parks, and other activities that kids will enjoy.
Where should I stay in San Diego if I'm on a budget?
There are several affordable neighborhoods in San Diego, such as Mission Beach and Ocean Beach. These communities offer easy access to the beach and plenty of restaurants and shops. You can also find some great deals on hotels in these areas.
Conclusion
If you're looking for a place to stay in San Diego, look no further than our list of the best places to stay near the beach.
From charming bed and breakfasts to luxurious resorts, we've got you covered.
And if you're looking for a hotel that's close to all the action, be sure to check out our top picks. So what are you waiting for? Book your stay today!
Other Awesome Blogs