New Smyrna Beach Shopping
New Smyrna Beach shopping is one of the nicest and most convenient places to visit. There is a lot of variety to choose from, beginning with anything from swimwear all the way to the cutest beach gift collectibles.
Driving around in circles looking for the best shops to find the perfect summer gear or that special gift could be a lot easier than you think.
Luckily, New Smyrna Beach has many shops that are wonderful, whether your planning to shop for someone else or yourself. There is a lot to choose from and the best part is that you do not have to travel far to get to these local shops.
A plethora of shopping at Flagler Avenue
If your heading to the beach, chances are you are probably going to run into one of the most popular areas of New Smyrna Beach known as Flagler Avenue.
It is one of the busiest avenues in all of New Smyrna Beach especially during the summer months. You will find many people walking along this avenue because of its proximity to the entrance of New Smyrna Beach.
Flagler Avenue is known as one of the most popular roads because of the variety of shops that you find here within walking distance from the beach.
Directions to shops in Flagler Avenue
If you are traveling to New Smyrna Beach from Orlando, the fastest way to get there would be to jump on the I-4. This main freeway connects the west coast of Tampa all the way to the East coast of Daytona.
Taking the I-4 east to the 44 east coast will lead you straight into Flagler Avenue and all its cute little shops.
Shopping places in Flagler Avenue
If you spent your day at the beach and are looking for somewhere to do some local New Smyrna Beach shopping, then look no further than Flagler Avenue.
The best part is if you are already parked at the beach then you just have to walk to the local shopping area.
It will most likely be less than a 10 minute walk depending how far you parked.
It is here where you can find apparel swimwear shops, art galleries, restaurants, and even sweet tooth shops.
If you need a bathing suit to take to the ocean then you definitely have places like Rip Curl and the Quiet Surf Shop. Other stores that you run across include places like SEI Boutique Store, Island Clothing Wear, and Look Charmed, etc.
Are you looking for sweet-tooth shops
Then there is plenty for you to choose from on Flagler Avenue. Some beach-goers favorites include places like the Beachside Candy shop and Treats on the Beach.
There are of course many others, so there is no excuse not to stop by for a delicious sweet treat. If you want to learn more about other sweet shops around New Smyrna Beach then be sure to check out what to expect in New Smyrna Beach Cheat Sheet right here.
Now If you brought your little furry pet with you, then do not worry about leaving them outside. You'll definitely love to check out one of the cutest pet boutique shops known as Silly Willies.
It is unique in its own sense where you can find what your little pet needs.
While you're at it, do not forget to take your little furry friend to the best dog friendly beach area nearby, click here to read more about it.
If you love jewelry shops, then you'll be happy to see that Flagler Avenue does not fail to surprise you. From necklaces to beautiful earrings and bracelets, there is really something for everybody to enjoy.
Local favorites include places like Beachsyde Jewelers and Jewelry of Joy.
If you are looking for amazing gift ideas to bring home with you, then Flagler Avenue shops are filled with them.
One of the most interesting gift places called Galleria Di Vetro, is filled with incredible art glass figurines. These designs are all hand-made and great gift options to take home or give as a gift.
The glass artist really spends his time hand designing each of the beach inspired glass figurines himself. Definitely a recommended place for you to check out.
Another gift shop that carries a variety of different beach decor items is Robins Nest Boutique, which has items from beach wall decor to handmade glycerin soaps.
Other boutique shops include the Sanctuary Boutique shop, the Big Bamboo, and Lolo's Boutique shop.
If you looking for galleries of cat artwork and enjoy paintings then Jonahs Cat Gallery is something you must check out.
On the other hand, if you prefer beautiful beach side home decor for your very own special place, then don't forget to stop at stores like Gyftz. Other boutiques like Robins Nest has some wonderful home decor as well.
These local shops are not hard to miss, and you can most definitely spend a couple hours walking around. Definitely allocate a couple hours to shop around and help support local shops around the New Smyrna Beach area.
There is definitely a treat for everyone who plans to shop here. Next time you are in Flagler Avenue you need to park and walk around this street. Do not to forget the delicious restaurants located here as well.
Canal Street Shopping is another great place at New Smyrna Beach
Let's say you finished your shopping at Flagler Avenue and are looking for more places to shop at. Do not fret, there is more. Luckily for you Flagler Avenue isn't the only place to shop at.
Another busy street, called the Canal Street Historic District, offers a array of different shops along with other local delicious restaurants, and more cute local boutique shops too.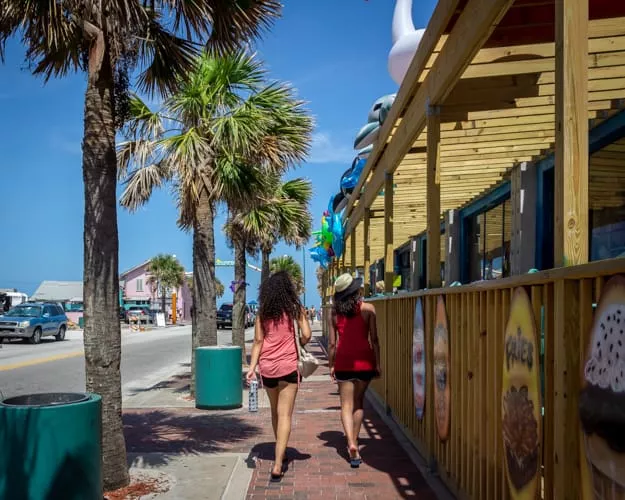 It is here where most of the summer events take place. You can find the local Saturday farmers market and even events such as car shows.
As far as shopping goes, there is plenty on Canal Street. If you did not find what you were looking for on Flagler Avenue, then canal street will.
It is recommended that you arrive early to be able to find parking if you plan on coming here. It tends to become a very busy time of year especially in the summer months!
There are plenty of shops in the Canal Street Historic District which include an abundant amount of dining as well as shopping. You can find anything from apparels and boutiques all the way down to arts, antiques, galleries, home decor, and florist shops.
There really is a lot to see around here. So next time you come to the beach then plan to do some local shopping here. You most definitely need to hit Flagler Avenue as well as Canal Street. You will find what you're looking for on these streets.
There is something for everybody!