Getting from Orlando to Daytona Beach is a very easy and direct route. In fact, it is one of the closest beaches near the Orlando region.
You don't have to travel far to drive to this beach. It is one of the more known popular beaches because of its distance to Orlando.
One thing is certain, this is a more crowded beach so do not expect it to be remote and quiet.
Once you know what to expect, then you can definitely plan accordingly and make the decision whether this is your go-to beach or not.
Orlando to Daytona Beach Freeway
There is really one simple and direct way to get from Orlando to Daytona Beach, and that is taking the I-4 East Freeway.
The only major freeway that crosses from the east coast of Florida to the west coast.
If you are in Orlando, then you'll notice it is the only freeway to take you either to Tampa Bay or the east coast beaches.
As a general rule of thumb, since the I-4 is the main freeway to take you from either side of Florida, then you can only imagine what this looks like during traffic hours.
In order to avoid the horrible bumper to bumper cars and countless accidents that occur here every day, use common sense. Do not go when traffic is at its peak.
This is mainly Monday through Friday when people are shuffling about heading to work their 9-5. It is the same road that you will be taking when heading from the big city of Orlando to Daytona Beach.
Arrive early to not only get a great parking spot but also enjoy the benefits of not standing in traffic for hours on end. 
However, it may not be that long but it can definitely become a bumper to bumper traffic move during those high peak hours.
Traveling by Bus
You can also go from Orlando to Daytona Beach with bus transportation.
Some people prefer not to deal with the parking situation or traffic.
On the plus side, some buses do provide you with WIFI and the accommodation is comfortable.
If you do want to take the bus from Orlando to Daytona then definitely check out buses such as the Greyhound where you can find prices ranging anywhere from $15-20 on one-way trips.
After researching, they make at least two trips during the day. One being in the bright early morning hours (you can definitely catch the sunrise) and another trip late at night.
So really there is only one if you are making it a day trip! And there is one at night when you do come home.
Traveling by Uber or Lyft
If you plan on taking an Uber or Lyft then you are sure to get the direct route as you would if you were taking a car. Although, you may find some prices are a little bit more than taking the bus.
Visiting Daytona Beach
If you have never been to Daytona Beach then you will be surprised that it is one of the more popular beaches you will encounter.
Even though it is a known beach around the Orlando region, it doesn't hurt to try it out. It is the most direct route from Orlando and the closeness makes it even more tempting.
The beach of Daytona has definitely more things to do and more attractions to encounter. You can find attractions literally on the shoreline and mini amusement park rides everywhere.
Daytona Beach does allow some cars to drive on the actual sand, but there is also some parts where you cannot.
Parking is limited in some areas so it is best to arrive here extra early.
There are a lot of hoovering five-star hotels on the actual beach. You cannot walk a mile without seeing the next hotel on the beach.
So if you plan on spending longer than a day at Daytona Beach then you should not have any trouble finding a hotel near the water.
Daytona Beach is known for its crazy summer events that take place. This includes attractions such as their boardwalk which has a Ferris wheel, an arcade, and rides. Also in the summer, you can find free concerts that take place in the Bandshell stages.
How to Avoid a Crowded Beach in Daytona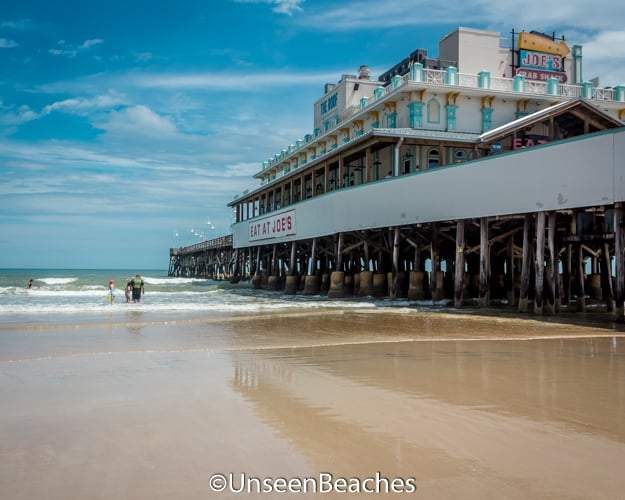 Spring Break
If you are planning to visit Daytona Beach and plan on making it a day trip altogether then be sure to avoid certain days unless you love the crowds.
One of the most popular times of the year is spring break. This is one of the go-to beaches for college students, so you can only imagine what happens!
Spring break usually takes place from March to April where most college students are out of classes looking to party on the beach.
Bike Week
Another time to avoid this beach would be Daytona Bike Week! This 10-day event occurs every year.
It is considered one of the largest motorcycle events of the year where a lot of motorcyclists get together and ride around the streets of Daytona Beach.
This event took place in March of this year.
There are two different bike events during the year, one known as the Daytona Bike Week and another similar event known as Biketoberfest.
It also is a large motorcycle event where you will see a lot of bikers driving around the Daytona Beach area. This event usually takes place around October.
The weeks sometimes change but it does take place every year.

Daytona International Speedway 500
Roads will definitely be busier during the Daytona 500 events that take place every year. It is a world-known event that has become more popular over the years.
The famous Daytona International Speedway has brought larger crowds to the beach.
So if you are planning to travel from Orlando to Daytona Beach this year just be wary of these events that come every year.
The Daytona 500 usually occurs in February, but there are other events held at the beginning of the year and sometimes in fall.
Orlando to Daytona Beach
If you do plan on going to Daytona Beach then definitely go early, especially in the summer months or during those busy events! Do not forget that Daytona Beach draws more crowds during special events.
Daytona Beach is also filled with summer concerts, arcades, and attractions.  
If you prefer a less crowded beach with a more remote location then be sure to check out other places like New Smyrna Beach Dunes Park.
Or if you prefer to walk the same beaches where the first conquistadors landed in Florida then check out Florida's historical beach!
Another amazing beach that is just as close as Daytona is Cocoa Beach Fl which also has many fun things to do for the whole family!