The East Coast has some of the world's most beautiful beaches.
Tourists seeking sunsets, surf, and dunes will find miles of magnificent sandy shorelines.
If you're traveling with your furry friend, you don't have to be the only one who enjoys running on the beach!
The range of accessible dog-friendly beaches on the East Coast makes it easy to bring your favorite pooch along, allowing you and your best friend to swim in the surf together.
OVERVIEW
the best dog-friendly beaches on the East Coast include:
1. Haulover Beach Park, Florida
Haulover Beach Park is a beautiful area off of Miami Beach's gorgeous A1A.
Every day of the week, from 8 a.m. to 3 p.m., you and Fido may join the throngs of beach-loving dogs for some off-leash fun between towers #2 and #3.
Sandy's paws aren't for every dog, which is surprising.
If your dog loves to run about on the grass, he may go to the dog park next to the beach.
You may still enjoy ocean views from the gated area as he finds new friends among the palms.
A water station is also available in the park, where dogs can cool off.
Why It's Perfect For Your Dog:
It is the beach for enjoying a sandy beach jog in the morning.
Your pup will love diving in the shallow tidal pools surrounded by soft white sand.
2. Wildwood Dog Park and Beach, New Jersey
The Wildwood Dog Park and Beach were created specifically for dogs.
There aren't many people here, so don't expect to see them playing Frisbee, or taking up some fetch area.
A big red fire hydrant is Wildwood's siren call to puppies.
The dog part of the beach is walled in, allowing dogs to run about freely, although they must be kept on a leash while beyond that point.
A sand path leads to the dog run area, which includes shaded areas, agility obstacles, and open areas for fetch.
Pets of all shapes and sizes may enjoy playing in the sand thanks to the distinct zones for large and little dogs.
Why It's Perfect For Your Dog:
If your dog is an adventurer, seek out the off-leash section of the beach.
Drinking water for dogs is easily available.
Cool off your dog with one of the dog wash stations available on site.
3. Bald Head Island, North Carolina
Fido will need to don his captain's hat for the trip to Bald Head Island, our next beach.
Take the pet-friendly boat from Southport to the island and enjoy a relaxing 20-minute journey.
Pets are welcome on the 14 miles of golden beach here, but they must be leashed.
The majority of visitors don't walk around the island; instead, they ride around on golf carts.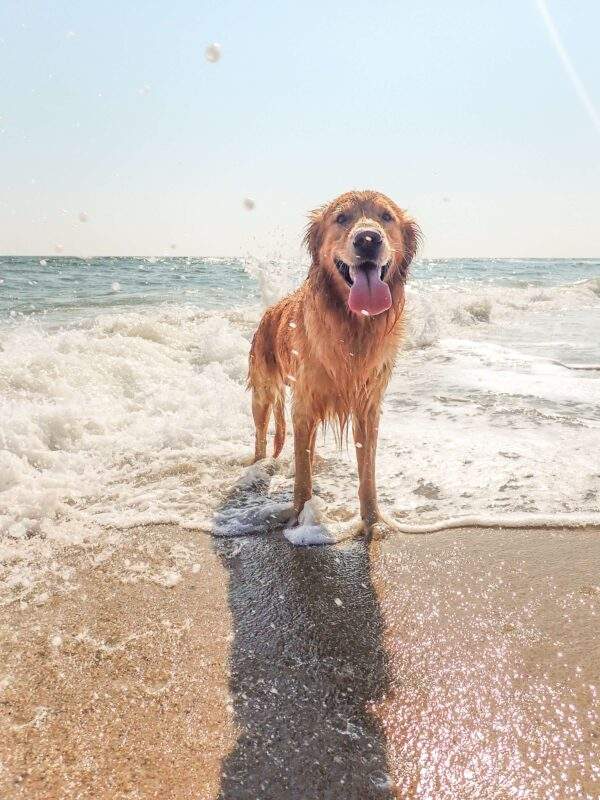 Why It's Perfect For Your Dog:
The Bald Head Island Conservancy also offers a pet-friendly Island Nature Tour.
You'll visit stunning beaches, a maritime forest, and a salt marsh with your dog.
There's also a dog park on Bald Head Island, another place for your pup
4. Jupiter Beach, Florida
Dogs may run free on more than 2 miles of pure golden beach on Jupiter Beach's dog-friendly area.
The greatest time to visit Jupiter Beach is during the annual Hang 20 Surf Dog Classic, even though it's a terrific dog beach all year.
A Bark & Brunch, a dog bikini contest, a vendor village full of unique items for Fido, a blessing of the animals, and a picture opportunity with surfing Santa have all been featured at previous events.
Why It's Perfect For Your Dog:
Major event: a canine surfing competition.
All dogs are welcome to try to stay upright on a surfboard.
If your furry friend can't cut the waves, there will be plenty of surfers eager to take him out for a little ride.
5. Bay View Beach, Maine
Bay View Beach, in the city of Saco, is a genuine gem in the sand, as one of the few pet-friendly beaches in Maine that enables dogs to hang around all day.
The beaches alone are enough to keep two- and four-legged tourists flocking to this picturesque part of New England, which is known as a location that is "friendly by nature."
From April 1st through September 30th, pets must be on a leash at all times on all beaches.
From October 1st to March 31st they can be off-leash, but trained under voice control.
Why It's Perfect For Your Dog:
It's great for a doggie dip because of the lovely white beaches and gently sloping shoreline.
Dogs can wander off-leash the remainder of the year and at any time as long as they are leashed
Waste bags are available at several Bay View Beach gates.
6. Myrtle Beach, South Carolina
Outside of Florida, Myrtle Beach is the closest thing to a Florida beach.
Even though Fido must be leashed while on the beach, this renowned resort has earned a position on our list.
A beautiful sandy beach with views of the Atlantic Ocean on one side and the massive SkyWheel on the other.
Regretfully, during the high season, beach access is limited.
Dogs are welcome to visit Barc Parc South and Barc Parc North, which are both close.
Why It's Perfect For Your Dog:
Keep the celebration continuing on dry land at the Sneaky Beagle.
Dogs may order frozen dog biscuits, chicken and rice, and other snacks from Precious Paws Boutique Store.
There are two local dog parks in the area where you can also take your pooch at.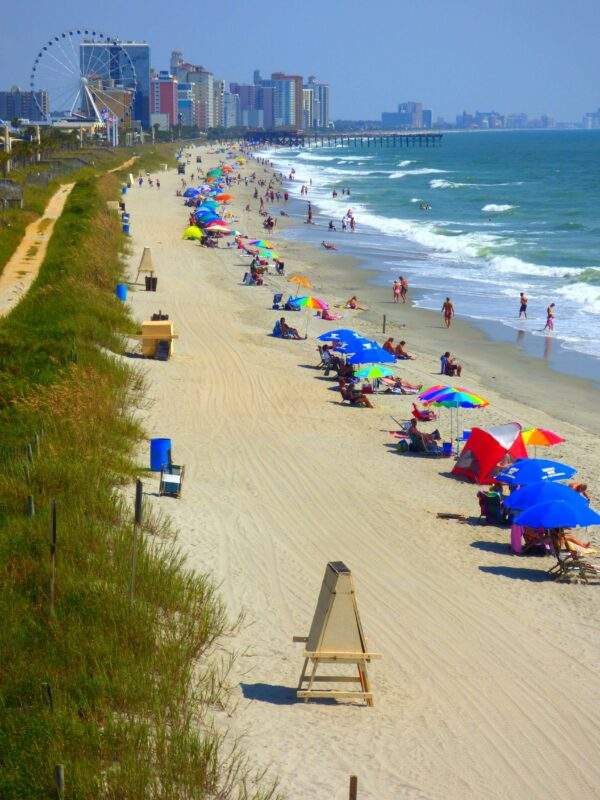 7. Morris Island, South Carolina
We're sticking in South Carolina for our next dog-friendly beach destination, which is a far cry from Myrtle Beach's hustle and bustle.
Morris Island, off the coast of Charleston, is a remote, untouched jewel that can only be reached by boat.
While the beach does not have a fenced-in area, your dog is free to join you off-leash if she is under voice direction.
And as long as it is not nesting season for shorebirds!
The beaches run for kilometers down the shoreline, reaching Morris Island Lighthouse, which was built in 1876, when the tide is out.
In the waterways around the ancient monument, you could even see dolphins.
You can make reservations at Adventure Harbor Tours if you don't have a boat.
Why It's Perfect For Your Dog:
The Morris Island Tour includes a history of Fort Sumter, the site of the Civil War's opening shots, as well as a guided tour of the island.
You and your canine companion may go shark tooth hunting while learning about the local environment.
You can check out the private charter boat tours and bring your companion along
8. Sombrero Beach, Florida
Sombrero Beach, in the Florida Keys, is the ideal spot for you and your closest buddy to unwind and enjoy island life.
In the Keys, sandy beaches are hard to come by, but whether your dog wants to fling sand on the natural beach or splash in the shallow surf (or both), here is the place to take him.
All city parks in Marathon welcome dogs, however, they must be kept on a leash at all times.
Free parking is available along the street, as well as shaded pavilions with grills and outdoor baths for people and dogs.
Why It's Perfect For Your Dog:
Is it true that Fido has always longed to meet Flipper?
Make your way to the Dolphin Research Center after a day at the beach to view dolphins and sea lions up close.
9. East Hampton Main Beach, NY
The Hamptons are a well-known beachfront retreat for New York's upper crust.
Their enormous houses are only a few hours away from the Big Apple on Long Island.
Whether you and your best friend are looking for a luxurious second home or simply visiting, the Town of East Hampton's pet-friendly beaches are a must-see.
Depending on when you come, the restrictions differ from beach to beach.
Many laws that are suspended during the off-season are reinstated during the peak season, which spans from May 15 to September 15.
Once on the sand, dogs can even go off-leash.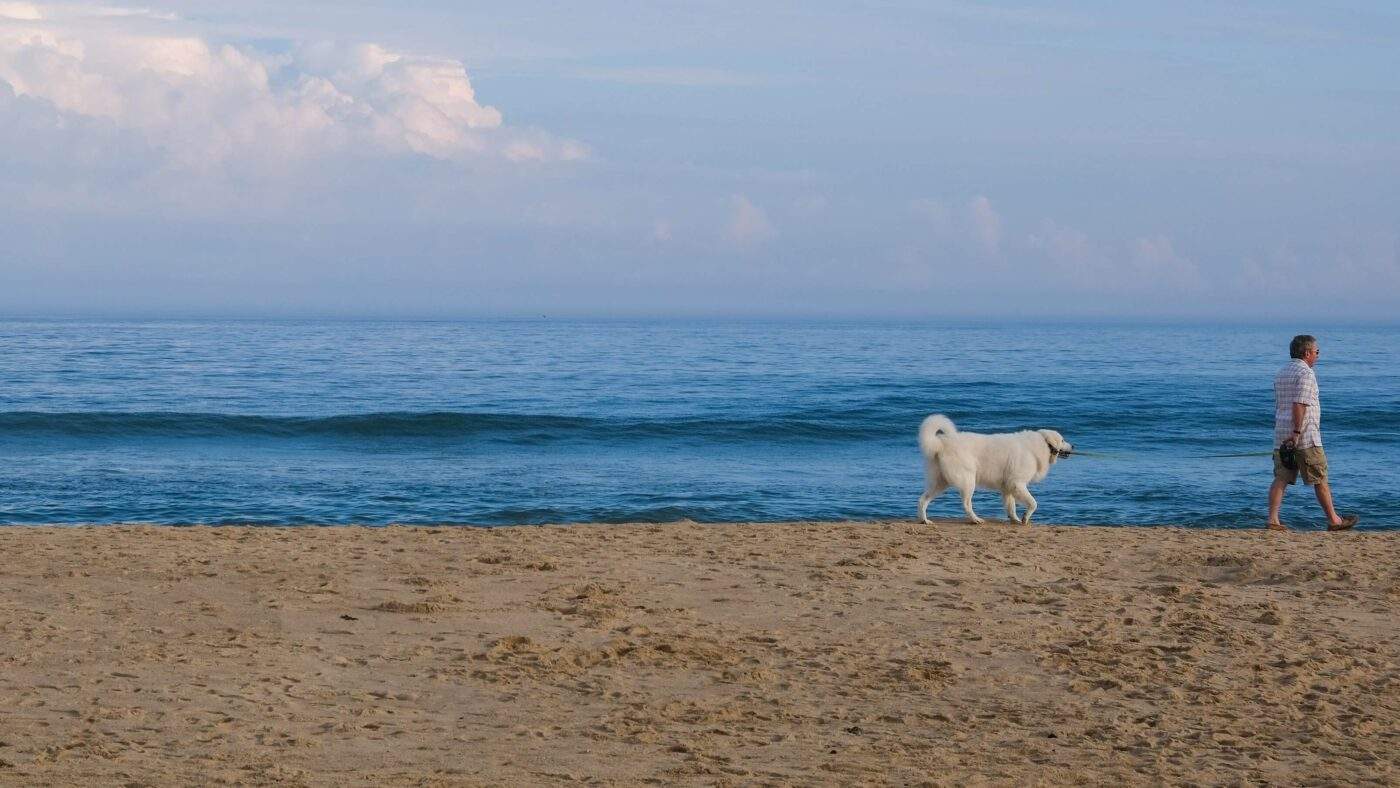 Why It's Perfect For Your Dog:
This beach is particularly accessible and has easy roadside parking.
The beach culture is very respectful and only trained dogs are allowed off-leash
10. Jekyll Island, Georgia
The Golden Isles, off the coast of Georgia, finish off our list of finest east coast dog beaches, and what a spot.
Jekyll Island, one of Georgia's treasures, has a few dog-friendly beaches, each of which provides something creative and unexpected.
Driftwood Beach lives up to its name, with a plethora of driftwood trees twisting and curling out of the sand in a variety of shapes, giving it a spooky and untamed image.
Why It's Perfect For Your Dog:
Great Dunes Beach Park, on the other hand, offers a variety of enjoyable activities for four-legged guests, including volleyball, bocce ball, and surfing.
The 25 miles of pet-friendly pathways that wind their way around the island allow you to go from one beach to the next.
11. New Smyrna Beach Dunes, Florida
New Smyrna Dunes Park is a 73-acre protected area on the New Smyrna Beach peninsula's northern point, surrounded on three sides by the ocean.
The Indian River offers a unique combination of habitats as it runs through Ponce Inlet into the Atlantic Ocean: ocean, dunes, river, saltwater marsh, and scrub zone.
To conserve the diverse plant and animal species that call this park home, two miles of elevated paths have been built.
Picnic grounds, an observation tower, and pavilions are also available.
Why It's Perfect For Your Dog:
Hiking around the park is a favorite activity for nature enthusiasts, and they are welcome to bring their dogs along as long as they are on a leash.
This park provides a great opportunity to get close to nature and see a variety of wildlife.
The amazing boardwalk is perfect for you to walk on to get fresh air
12. Hampton Beach, New Hampshire
This beach is well-known for its annual Sand Castle Competition, where teams of architects sculpt massive sandcastles.
Dogs are allowed on the beach from October 1 to March 31. Dogs need to be leashed in a retractable leash no larger than 6 feet tall.
Make sure you abide by the rules. Because Hampton Beach is a state beach, there are certain things you can remember to have an amazing time.
Hampton Beach is the perfect place for your family to spend time camping, enjoying activities, great seafood, and a bustling boardwalk.
Why it's perfect for your dog
Hampton Beach is the perfect place to bring your dog because it provides many activities for both you and your pup.
Perfect off-season beach to walk your dogs on the shore.
13.Kennebunk Beach, Maine
A beautiful sandy beach flanked by rocky cliffs, Kennebunk is perfect for a stroll or a game of fetch.
Make sure you are familiar with the rules since this beach has a couple of things you have to keep in mind while bringing your pup here. Dogs are allowed on the beach from October 1 to April 30.
Make sure your dog is trained and under voice control on most beaches. For more info, you can visit their page.
Why it's perfect for your dog
Dogs are allowed on Gooch's, Middle, and Mother's Beach, and a part of Parson Beaches.
Dogs can roam from June 15 to Labor day before 9 am and after 5 pm. They must be under voice control or a leash.
From Labor Day to June 14, dogs are allowed on the beach with a leash or under voice control.
14. Cape May Beach, New JerseY
This beach is situated at the southernmost tip of New Jersey and is a popular spot for birdwatching.
Dogs are allowed on the beach from October 1 to April 30.
You will enjoy bringing your family and dog here because of the great natural scenery and a wide variety of activities available.
It is the perfect Off-season vacation you need for you and your pup.
Why It's Perfect For Your Dog:
This beach is a top pick for birdwatchers and those who enjoy nature. If you have a well-behaved dog, this is the perfect place to bring them to run around and explore.
Plenty of pet-friendly accommodations for you and your pup
You can find plenty of pet-friendly restaurants that will gladly sit your pet outside
15. Cape Cod National Seashore, Massachusetts
This seashore has 43 miles of pristine coastline and offers plenty of dog-friendly beaches.
Dogs are allowed on all the beaches except for a few areas that are reserved for swimming.
There are also plenty of hiking and biking trails available.
There are certain restrictions with the summer months. Be sure to check out the NPS on Cape Cod National Seashore before planning a trip here.
Why It's Perfect For Your Dog:
It has wide-open spaces, which make it easy for your dog to run and play
There are also plenty of trails for you and your dog to explore
both you and your dog can explore the beauty of this gorgeous place.
Tips and Tricks
If you're planning on bringing your dog to the beach, there are a few things you'll need to keep in mind.
First, make sure that the beach you're going to is actually dog friendly – some beaches don't allow dogs at all.
Some have restrictions as far as having your dog leashed during peak times which usually includes summers! Unless you plan on going extra early! Double check first!
I recommend checking out the actual city pages of each beach before you plan.
Once you've found a suitable beach, it's important to prepare both yourself and your dog for a day in the sun.
Here are a few tips to make sure that everyone has a good time:
Bring plenty of water for both you and your dog, and make sure to take frequent breaks in the shade. Dogs can get dehydrated quickly, especially if they're playing in the water.
Make sure your dog is wearing sunscreen – their skin can burn just like ours can.
Bring a towel or some other way to clean up your dog's messes. Nobody wants to step in sand-covered dog poop.
Keep an eye on your dog at all times. There are plenty of things at the beach that can harm them, from jellyfish to broken glass.
Check out our blog 15 beach accessories to bring with your dog
Conclusion
Start packing! now that you've seen a variety of dog-friendly beach vacations in the East Coast of the US.
Pack some goodies for your dog and consider some of these suggestions to help them relax while traveling.
Keep this free east coast travel guide handy for your next dog beach vacation!
We've come to the end of our list of dog-friendly beaches in the East Coast.
Have you decided on your perfect spot yet? If not, be sure to check out all of the options we've listed, and don't forget to pack plenty of water and sunscreen for both you and your pup
Looking for more beaches that welcome dogs? Check out this list of the top 15 dog-friendly beaches in Florida.
Other Awesome Blogs